THE PERSONAL TRAINER CONNECTION!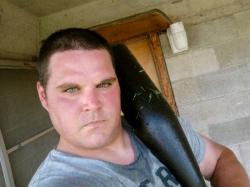 Specialties
Strength Building
Weight Loss
Rehabilitation
Yoga
Strength/Endurance, Grip strengt
Certifications
Certified Macebell trainer from under Jake Shannon at www. scientific wrestling.com
Personal Trainer Overview
I am a world renowned authority on grip strength and training, strength/endurance and training with the Macebell. I believe in training hard and heavy. I am currently swinging the heaviest maces and weight clubs in the world and have been recognized in my skill with heavy kettlebells and the amount of reps I will do in one workout. I KNOW I can train others to do the same. When MMA super stars have to "shake out" their hand after shaking hands with YOU... you KNOW you have scary good grip. Want a grip like mine? Want the strength, endurance and mental fortitude to swing 70lb, 80lb even 90lb Macebell, one hand a 45lb Clubbell like it was a toy, do 100 one arm cleans and presses with a 32kg Kettlebell in less than 15 minutes? Imagine what you could do with that! Let me help you get there!
Training Philosophy
I believe grip and leg strength are paramount. I train both very hard. I believe in heavy full body exercises and running metabolic circuits. I believe in hard intense exercise routines that create large oxygen debts in the body, you build powerful muscles and tendons with plenty of recovery time.
Education
School of hard knox, at the boot of old school Iron heads, and a bunch of guys you never heard of but probably should have.
Bio
In the early 2000s I suffered an injury that laid me up for years. At one point I wore a 56 size in pants and XXXXL shirts. I was sad and depressed and didn't want to live anymore. I received a serious wake-up call and decided I needed to FIGHT for my strength; health and life back or die.... I truly KNOW what it's like to have to look myself in the mirror and say "you are worth winning this battle" and to believe in all my heart that I can do this. A couple years later I get calls and e-mails for people around the world who want strength and endurance like mine. If I can do this.... YOU can do this, and I can and will help you. I now wear a 38 size pants and X-XXL shirts and can perform feats of strength that no one else on the planet has done in modern times and can hang in strength and endurance contests that very few people can do. www.primalpowertraining.com click my bio and then watch my videos.