THE PERSONAL TRAINER CONNECTION!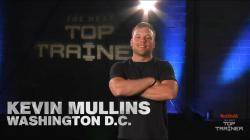 Specialties
Strength Building
Body Building
Weight Loss
Body Sculpting
Certifications
ISSA Certified Personal Trainer USAW Level 1 Olympic Strength Coach NASM Special Populations Certified Trigger Point Therapy
Personal Trainer Overview
Young, educated personal trainer employed by the leader in the health and fitness industry, Sports Club/LA. A talented group exercise instructor who designs programs that challenge muscles, endurance, and will-power, but in a safe, and fun environment. A personal trainer with thousands of hours of experience and hundreds of clients that serve as living proof of successful methods! Form over all, performance over aesthetics, and aesthetics over vanity. 2014 Men's Health Next Top Trainer finalist KevinMullinsFitness.com
Training Philosophy
#BeLivingProof. This means that you can stand up and show the world that change can happen, and that fitness and nutrition can institute greatness in your life! As far as training is concerned I am focused on developing a personalized program for every client I meet. No two clients should have the same programs. However, I believe in the essentials of fitness. My clients learn how to squat, deadlift, and overhead press with barbells, dumbbells, bands, bodyweight, and everything in between. These movements are fundamental to our every day lives, and thus, maximizing our ability to perform them will greatly improve our quality of life. Furthermore, they will ensure our bodies are built correctly, with strong legs and cores, mobile hips, and a flexible, but unbreakable spine! Nutrition is also personalized. The goal is not to eat perfect. The goal is to make the perfect plan for each individual and their lives. Protein is a must, and let's skip the chips and dip, but let's find a way to make you happy, lean, and self-motivated!
Education
B.S. Kinesiology, University of Maryland College Park Internship: Philbin's Family Fitness Center, Gaithersburg, MD. (1 year)
Bio
I am a 2014 Men's Health Next Top Trainer Finalist. Hundreds of applicants applied to compete in a reality show hosted by the leading Men's Magazine, Men's Health, that tested all aspects of what it means to be a successful trainer, motivator, and fitness celebrity. I am currently employed at the Sports Club/LA in Washington D.C. where I am one of the leading private trainers, group exercise instructors, and BLITZ coaches. I came to training later in my life after my athletic years had come to a competitive end. I was never really into working out as a teenager, but found an intense passion for it as a young man. I attended the University of Maryland, graduated with a degree in Kinesiology, and obtained my personal training certification through ISSA. Through a variety of training climates, experiences, and opportunities I have developed and honed my skill set to the point where I am absolutely certain who I am as a trainer, as a man, and as a member of the fitness community. As the son of a military father, and a loving mother I bring genuine care to my clients, as well as an intense motivational side that pushes them to overcome the obstacles they face! Seek to overcome the world!