THE PERSONAL TRAINER CONNECTION!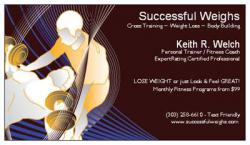 Specialties
Strength Building
Body Building
Weight Loss
Aerobics
Body Sculpting
Reiki
Certifications
Expert Rating Certified Professional Certified Reiki Practitioner
Personal Trainer Overview
Keith Welch, CPT is a certified personal trainer working out of a semi-private studio in beautiful Parker, Colorado. As a fitness trainer Keith is very diverse in his training, knowledge, and experience. Keith specializes in weight management, high intensity circuit training, strength training, and general health and nutrition. Conveniently located in Parker, Colorado near C470 & Parker Road and easily accessible from DTC, Greenwood Village, Cherry Hills Village, Englewood, Lone Tree, Highlands Ranch, Centennial and Littleton. GOT BOWFLEX/TOTAL GYM? Keith will come to your home studio to show you how to maximize your workout and results using your current home training system.
Training Philosophy
Individual Training Keith's one-on-one personal training program is designed exclusively for your unique needs & goals. Keith will assess all of your strengths and weaknesses before designing a personal program that will help you reach your fitness goals. Training is partnered with nutritional recommendations to give you better results. Keith will provide the motivation, inspiration, and leadership you will need to reach and maintain your personal fitness and/or weight loss goals. 4 personalized programs available starting at $99. Boot Camp This 30-minute small group intensive focuses on the most effective fat burning exercises possible. Sessions are structured for results at any intensity level.
Education
For more than 16 years, Keith has studied and implemented a variety of specialties including nutrition, weight loss, weight/strength training, aerobic fitness, and combat arts. Keith reads, takes courses, and attends professional conferences to learn specialized techniques to share with his clients. His special interests include Krav Maga, S.C.A.R.S. (Special Combat Aggressive Reactionary System), and Reiki Energy Therapy.
Bio