THE PERSONAL TRAINER CONNECTION!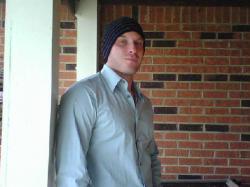 Specialties
Strength Building
Body Building
Weight Loss
Yoga
Aerobics
Body Sculpting
Calistentics
Training Locations
home
gym
studio
work
outdoors
My home
Certifications
American Council on Exercise Certified Personal Trainer American Red Cross Certified CPR/AED
Personal Trainer Overview
American Council On Exercise Certified Personal Trainer - Weight Management - Core Training ( abdominals & Low Back) - Toning and Shaping - Strength Training - Cardiovascular Training - Flexibility Training - Functional and Sports Specific Training - Special Populations and Older Adults - Fitness classes, Yoga, Boot Camp, Pump it Up, Abdominals - In Gym/Home visits available Rates $20 - $50 per session depending on amount/type of sessions purchased. Willing to work with those in tough financial troubles. Please Contact: Keegan Lee Malloch @ 586-719-9132
Training Philosophy
I believe very much in a balanced fitness program. A balance between Muscular strength, Muscular Endurance, Flexability, Cardiovascular, Nutrition and Mind & body training. I believe very much in calisthenic Fitness training. Training your body with your own body weight as the resistance. 95% of the clients that come to me want to tone and shape their body's. Burn body fat and tone their muscles. Calisthentics fitness training is the exact type of training needed to reach that desired goal. I have seen the results first hand and they are amazing.
Education
ACE Certified Personal Trainer Abdominal Fitness classes Boot Camp Fitness Classes Pump It Up Body Fitness Classes Yoga Classes Nutrition CPR/AED Certified
Bio
I have been in the Health and Fitness Industry for 8 years now helping various types of indivduals achieve their fitness, wellness and Lifstyle goals. I love to help people and I would love to help you. I used to body build proffessionally but I am now more into body sculpting and Shaping. All Natural I have never taken supplements. I have been doing what I love to do around the Detroit Metro area for years. I will come to your house, you can come to my house, I can go to your Gym, You can come to my gym, or we can meet at a nuetral location. Either way I am here to help you. "No more Excuses Get into shape today, If you have a goal then lets raech it together the rite way with proffessionals" In-home, studio,outdoor office & gym sessions available. Best price & results Guaranteed. Servicing the Entire Metro Detroit Area!