THE PERSONAL TRAINER CONNECTION!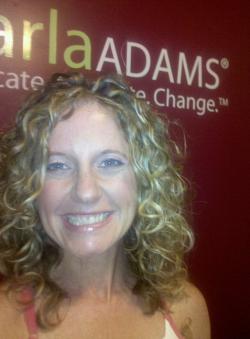 Karla Adams Fitness Corporation.
Karla Adams -
(951) 683-4844
Riverside, California 92506
Trains both men and women.
contact trainer
Specialties
Weight Loss
Rehabilitation
Yoga
Body Sculpting
Lifestyle Change
Personal Trainer Overview
Mission: Karla Adams Fitness Corporation is comprised of a team of passionate health and fitness professionals dedicated to educating all clients and the Inland Empire on the power of a healthy mind and a healthy lifestyle, while providing quality training to help both beginner and advanced clients meet their specific fitness goals. Our aspiration is to be a vessel of motivation to facilitate change in lifestyle habits that improve the physical fitness, health awareness, and overall quality of life of present generations, thereby positively affecting the health trends of future generations.
Training Philosophy
Philosophy: Educate. Use a highly organized, yet simplistic method to educate clients about nutrition, exercise and the power of a fitness mindset, the effects social trends have on ones' beliefs and habits and the development of a lifestyle plan that works in the real world. Motivate. Provide a professional team, a personal approach and a positive, high-energy environment with the goals of providing extrinsic accountability and enhancing a client's intrinsic motivation. Change. Reorganize client priorities and facilitate client behavior and thoughts that fall in line with their health needs and personal fitness desires. Help client's understand the commitment and dedication to changing habits that is necessary to achieve, and more importantly, maintain results.
Education
Bio
Karla Adams became entangled with the world of health at age 16, after getting a job at a local health food store (Clarks Nutrition). At first, she was simply intrigued by health and fitness, wanting to learn more about exercise and nutrition. After spending many hours reading about foods/nutrients that are quintessential to the body, and realizing how a diet lacking these foods could drastically affect an individual's quality of life, Karla was no longer simply intrigued, but on a mission to educate people on health. After 14 years of being dedicated to understanding the health ills of society (i.e. 63% of the population being overweight or obese OR child obesity being so prevalent that the current generation of children is unlikely to outlive their parents), Karla created a company to affect health trends for the betterment of society. Her company, Karla Adams, Inc., is all about educating, motivating, and changing individuals and communities to increase the quality of life of present and future generations through health and fitness. Karla sees health and fitness as the strongest vessel to enhance one's life physically and mentally. Karla has been featured in many articles, magazines and on the radio. These achievements only excite her because they are opportunities to further educate people on aspects of their health, nutrition and exercise. Karla's current focus is on developing a team of fitness professionals that have the same passion as her. She has always had huge success with her personal clients, but acknowledges that to successfully spread her cause and affect society, she must branch out and create a team of individuals who are equally enthusiastic and knowledgeable about health and fitness.