THE PERSONAL TRAINER CONNECTION!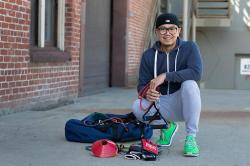 I can show you how I lost 80 lbs.
Joseph Abadilla -
(408)674-9239
San Jose, California 95136
Trains both men and women.
contact trainer
Specialties
Weight Loss
Body Sculpting
Certifications
NESTA Personal Fitness Training 2.0 NESTA Lifestyle Weight Management
Personal Trainer Overview
Start.Live.Fit. offers individual fitness training, couples training, small group training, and seasonal Infinity Boot Camp with a certified NESTA (National Exercise & Sports Trainers Association) Personal Fitness Trainer. I travel to your home with all the equipment needed for your workout. I create a custom training plan for you that is both fun and effective! Each flexible training plan takes into consideration your requirements and individual needs - no matter your fitness level or constraints. No travel. No buying or storing expensive equipment. No fighting for space at the gym. No keeping up with a class or video that isn't at your fitness level. No having to figure it out on your own. No excuses! Start.Live.Fit. is based in the southern San Francisco Bay Area. I serve San Jose, Morgan Hill, Saratoga, Campbell, Los Gatos, Sunnyvale, Milpitas, Cupertino, and (as scheduling allows) Palo Alto.
Training Philosophy
A healthier you is absolutely closer than you think. You've already taken the first step just by visiting the Start.Live.Fit website! You're not alone - we all want to be healthier but we think we lack the time, commitment, and motivation to make it happen. Start.Live.Fit is your secret weapon …I will keep you motivated and committed to becoming the heathy person you want to be! I know you have goals - like losing weight, gaining muscle, or getting off insulin and high blood pressure medications. These are great goals. But as your personal trainer my true goals are for you to appreciate being active, to be happy, to be healthy, and to truly love your body. My goal is for you to change your life from the inside out!
Education
Currently at De Anza College pursuing Kinesiology
Bio
Hello, my name is Joe Abadilla and I'm a NESTA certified personal fitness trainer. I'm passionate about helping you become the amazing, healthy, happy person that I know you can be. Why did I become a certified personal fitness trainer? Well, let's go back five years into the past. In June of 2010, after just three years of marriage, my wife walked out of my life forever. I was devastated. I couldn't sleep, I couldn't leave the house, I couldn't even get out of bed. I was an unhealthy 230 pound man with uncontrollable diabetes and dangerously high cholesterol. When my wife left, I hit rock bottom. If you want to know more visit my website at http://www.startlivefit.com/my-journey.html