THE PERSONAL TRAINER CONNECTION!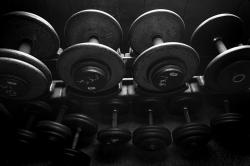 Hot Shot Performance LLC
Jonathon Stine -
(517) 402-7360
Lansing, Michigan 48911
Trains both men and women.
contact trainer
Specialties
Strength Building
Body Building
Weight Loss
Golf Fitness!
Certifications
NASM Certified Personal Trainer CPR/AED Certified United States Golf Teaching Professional
Personal Trainer Overview
A healthy lifestyle doesn't need to be complex or overcomplicated. I believe most people understand the basics to leading a healthy lifestyle. The problem is, a lot people choose not to follow that knowledge. My number one goal is to motivate people to make the necessary changes to promote a healthier lifestyle. To follow that knowledge they already have, and to further educate individuals in health and fitness.
Training Philosophy
My motivation comes from the individuals that I work with. Having had my own issues with health and weight in the past, I'm energized by anyone trying to make physical and psychological changes in their life. Being healthy isn't complicated, but it does take effort and work. I pride myself on being able to educate and motivate people to become a better version of themselves. I'll train clients at their homes, the office, on the road, and even cook for them if that's what is needed. I do whatever is necessary to make those positive changes happen.
Education
Snap Fitness Internship NASM Certified Personal Trainer USGTF Golf Professional 15 years instuction/teaching experience
Bio
Unfortunately, health and fitness was not always a part of my life. I was obese as a child, and experienced all the limitations that came from being unhealthy and unfit. It was in 7th grade, when my Body Mass Index reached 40, that I decided it was time to make a change. By the start of freshmen year, I had lost 30 lbs and have since never looked back. I have committed my life to fitness because I believe there is no other alternative to leading a healthy lifestyle.