THE PERSONAL TRAINER CONNECTION!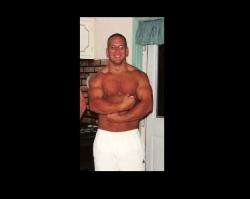 Specialties
Strength Building
Body Building
Weight Loss
Rehabilitation
Body Sculpting
Surviving life's curve balls
Certifications
B.S. in Child Psychology
USA Weight Lifting Certification
Personal Trainer Overview
If you want to be a meat head then I am not for you. I am about physical health and well being through proper training according to the clients needs. I am knowledgeable in weight loss, nutrition, muscle gain, sports performance, dynamic and static flexablility at their highest levels.
Training Philosophy
I am a product of hard work and listening to my body. Through years of training myself and others I have found that we can not out do nature. If you train along side the natural occurances of our surroundings then you will acheive your goals without injury. You are trying to survive and experience life as long as you can that is why training needs to reflect your daily actions. I use all types of training because you never know what life will throw at you. Whether your in sports, training for a marathon, or looking to get off medications, my approach will allow you to achieve all your goals as long as YOU are with me 100% Diet: My father always said "you are what you eat." This is more true than ever. Autism and thyroid problems being linked to pesticides that are sprayed on our fruits and vegetables, Salmonella poisoning being linked to poor animal feeding procedures, genetically modified chickens, crops and seeds. We are all screwed (to put it kindly), unless we understand the importance of supporting local farmers; and educating ourselves on nutrition. The better we eat and exercise, the better we feel. The better we feel, the better life we experience. We only got one, lets do it right!
Education
Manhattan College 1998-99 Exercise Science Monmouth University 1999-02 Child Psychology Health Studies Thesis: Sport Performance Rituals Amongst College Athletes 2002 Group Exercise Instruction/Boot Camps 2002-present Sports Strength & Condition Private & Group 2002-present Combine Preperations (high school & professional) Conconi & FMS assesments 2007-present Dynamic & Static Flexibility Training 1999-present Medicine ball Training 1999-present Active Recovery Exercises 1999-present
Bio
Jon is a graduate of Monmouth University currenlty training for the 2012 Olympics in the sport of track and field. His world and national ranking since 2002 has allowed him further insight into training techniques and nutrition that are efficient to one's needs. He has been training athletes and PT clients since 1999 ranging in ages from 8 years to 69 years of age. Jon currently works out of Test Sports Clubs in Tinton Falls, NJ and travels to homes, parks and high schools in the area to train clients. He is also the author of The Student/Athlete Handbook currently being sold at AMAZON.com and the owner of Jersey Trash Clothing