THE PERSONAL TRAINER CONNECTION!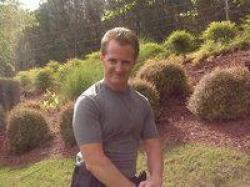 My Profile
John Goode -
(404) 960-7969
Snellville, Georgia 30078
Trains both men and women.
contact trainer
Specialties
Strength Building
Weight Loss
Rehabilitation
Training Locations
home
work
gym
studio
outdoor
United States
Personal Trainer Overview
Hi, my name is John B. Goode; I am the owner of Johnny B. Fit Personal Training Systems. I have been a personal trainer for; many years, and I am able to give you my valued service.I will assist you in becoming the best you you can be. Give me a try, whether you are trying to lose weight, train for a 10K, marathon, triathlon, or whether you are trying to get in shape to enter military service. Over the years, I have trained many of Atlanta's wonderful people, and I take pride in the fact that by clients have stayed with me and are contented persons who have me their goals or are vigorously continuing to pursue them. Let me assist you in achieving your personal fitness.
Training Philosophy
Through the years I have designed programs for persons of various levels of fitness, i.e., marathon runners, tri-athletes, golfers, and tennis players. I motivate and train people with Hypertension, the morbidly obese, octogenarians, and youths. I give fit- check assessments (resting heart rate, blood pressure, body composition analysis, muscular strength/endurance tests, flexibility/range of motion analysis, cardiovascular fitness test, health risk appraisal). Flexibility/range of motion analysis. I am the all around guy for you fitness needs.
Education
Sport Administration, St. Thomas University, Miami FL
Bio
Born in Pasadena Texas, but raised in Pembroke Pines Florida, John Goode has been running for over twenty five years. Wanting to add an aerobic component to his burgeoning weight training activities John started running in 1986 while still in high school. Throughout high school and college he strength trained and ran. After obtaining his A.A. degree in Communications at Broward Community College, he attended Saint Thomas University, in Miami Florida and received a Bachelors degree in Sports Administration in 1994. Two years later he became a certified personal trainer. Although John had been running for well over a decade, logging nearly fifty miles a week, and enjoying the exhilaration of endorphins coursing through his body, he didn't start running competitively until 2003: he was 35 years old. He targeted the U.S. 10K Classic as his first official race. He started training for the road race more than 3 months in advance, setting a specified time for long and short runs, and setting times to run faster in speed sessions. He finished his first timed race at 43:14 at a 06:57 pace. Since Labor day 2003 John has run three more U.S. 10K Classics, the U.S. Army Hooah 10K, one Atlanta Half Marathon in 2006, and a full Atlanta Marathon in 2008. He trained at the prestigious Cherokee Town Club for over 13 years. He later went into business for himself starting Johnny B. Fit Personal Training Systems where he training his clients for 5k's, 10k's and marathon's. He is also the number 1 referred trainer for Expect to Get Fit, Inc. His web address is http://www.johnnybfit.us.