THE PERSONAL TRAINER CONNECTION!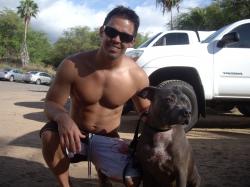 Health and Wellness Fitness Expert
Joel Duran -
(949)266-4794
Huntington Beach, California 92649
Trains both men and women.
contact trainer
Specialties
Strength Building
Body Building
Weight Loss
Rehabilitation
Kick Boxing
Body Sculpting
Health & Wellness
Personal Trainer Overview
Training methods consist of one-on-one or group personal training, to where the client and myself outline the goals and objectives needed, that is going to best suit the client and achieve production, and accomplishment of the designed goals. Training includes Programs, Diets, and a Personal Coach to get to the level of fitness the client wants to be. I first asses where you want to go with health and wellness, then I outline and explain to the client what it takes to achieve fitness success...
Training Philosophy
Philosophy is to train and teach the client the importance of health and wellness. Not only do you have to be disciplined and determined to achieve the designated goals outlined for you, but you must also understand what it takes to not only be in good shape, but what it takes to be healthy. Understanding the steps necessary to achieve the goals and become the athletic person you so desire to become, is what health and wellness is all about. Everyone has hard work ethic within them, the key is keeping the hard work out of frustration and into a positive mode of effective progress, staying happy, accomplished, and healthy...
Education
I was previously training under Micheal Thurmond, owner of Body Makeover and previous head trainer of ABC's Extreme Makeover. I'm Currently achieving my BS in Business Communications and plan on getting my Masters in Business in the next couple years. I've been personal training for over 7 years now, and love the reward of the clients progress that I have helped them through.
Bio
I'm very into outdoor activities and love to go hiking whenever I get the chance. I love the outdoors and the essence of what nature has to offer, which leads me into being green. I'm not a hippie, but I understand the importance of the earth, and what we need to do to keep it organized and healthy as well. As we achieve our level of health and wellness, we must also be aware of the Earth's health as well. One of my biggest passions is snowboarding, and even though I'm getting older and finding out that I'm not able to do the same tricks that I used to, I still enjoy it and love doing it, which brings me to Martial Arts. I'm currently studying Muay-Thai, and Brazilian Jiu-Jitsu. I love Martial Arts and the way it changes your life. I plan on one day owning my own business corporation and raising a family, but until then I'm going to help others in achieving their goals to health and wellness...