THE PERSONAL TRAINER CONNECTION!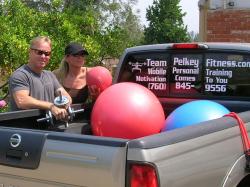 Specialties
Strength Building
Weight Loss
Rehabilitation
Yoga
Pilates
Kick Boxing
Body Sculpting
Senior Training
Certifications
ISSA
ACE
Nesta
Biomechanics
Lifestyle and Weight Managment
Functional Trainer
Core Speicalist
Injury Specialist
Sports Yoga
Personal Trainer Overview
My Wife and I have been Personal Training for 15+ years, Both in and out of gyms. Training clients from 8 to 98....For the last 10 years we been doing In-Home, Office, Park/Beach trainig. Plus we bring all equipment needed to meet your goals, You don't need a thing. As your Personal Trainer our goal is to design a program that is not only fun ,but will challenge your body each and every workout! Your program will be designed around YOUR fitness goals......What are you waiting for? Let's start today
Training Philosophy
We add a personal touch to each workout because there are no two clients the same. Each workout is customized to your individual needs and body type.
Education
College
Bio
Both my wife and I have been in the Personal Training field for 15 years. In those 15 years I have helped start two Personal Training companies and we traveled through out Southern California starting these companies in several gyms. Helping people achieve their goals in fitness as well as in nutrition. Training is hard and each person is different. I am an example of that. I have spent years trying to put on lean muscle mass. Once I realized my own body type I was able to train and eat correctly to achieve my personal goals. I know how hard it is. For that reason I have made it my life's goal to help others get to understand their own body types. .