THE PERSONAL TRAINER CONNECTION!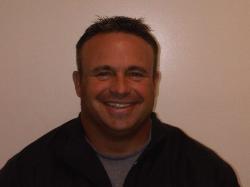 Specialties
Strength Building
Weight Loss
Rehabilitation
Sports Specific
Certifications
NSCA
USAW (United States Weight Lifting)
Personal Trainer Overview
Our training protocols are geared toward the athlete who wants to improve his or her all around game by improving Power, strength, Muscular size, speed, agility and flexibility.........the components necessary to complete the athlete. We have athletes from all levels including the professional athlete. We take a no-nonsense approach to meet your goals. There are NO GIMMICKS in our training system...just hard work. If you have the ATTITUDE and COMMITMENT then gives a call.
Training Philosophy
Our "Raise Your Game" philosophy is more than just the latest research and training principles. We dedicate ourselves to motivating your athletes to not only excel as athletes, but to realize their personal potential and develop the skills they'll need to succeed in life; skills such as discipline, confidence, preparation, self-motivation and leadership. The Role of a Strength and Conditioning Coach The Strength and Conditioning Coach is responsible for improving an athlete's performance and preventing common sports related injuries. By determining the strengths and weaknesses of an athlete, a training program is devised to enhance performance and correct imbalances and deficiencies which may lead to injury. Technical Skill v/s Athletic Skill Participation in sports requires a blend of technical skills and athletic skills. The exact amount of each is dependent on the sport and level of competition. Technical skills, such as throwing for the baseball player or shooting for the lacrosse player, are required explicitly by each sport. Between tournaments, leagues, games and practices, technical skills are, at times, practiced 5-6 days per week for the greater part of the calendar year. Athletic skills such as power, strength, flexibility, balance, speed and agility are required by all sports but their role and level of importance in each sport will vary. Athletic skills training will enhance the execution of technical skills, increase performance and prevent injury. Athletic Skills Development MPF Training Systems focus on the long-term development of each athlete through an emphasis on stability training before power and strength training. Athletes must demonstrate the ability to execute movements that require body weight control, balance and core stability before strength and power training exercises are progressed. Traditional training models used for high school athletes require maximum or near maximum strength and power movements in the early stages of training putting athletes at risk for the development of permanent muscular imbalances, decrease sport performance and potential injury.
Education
Cal Poly Pomona, Kinesiology, Exercise Science. Mike Boyle (Head Strength and Conditioning Coach, Boston University) Mentorship Program. USC Strength and Conditioning, Chris Carlisle.
Bio
Joe Marino is a Huntington Beach based Strength and Performance specialist whose clients include High School, College and Professional athletes as well as young athletes and everyday people. Joe works with clients both on an individual basis and by groups using strength and conditioning training as well as functional training methods to reach his client's long-term Strength and Performance goals. Joe is constantly striving to use innovative training techniques to constantly challenge his clients for continuous improvement in their sport or health needs. With over 20 years of experience in the fitness industry, Joe brings knowledge and excitement to every training session. Whether your goals are sport-specific or just to get in shape, Joe's commitment to your sports or fitness goals will help you achieve what you desire