THE PERSONAL TRAINER CONNECTION!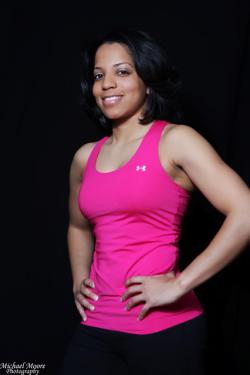 Specialties
Strength Building
Weight Loss
Rehabilitation
Body Sculpting
Boot Camp
Certifications
NASM-CPT & ACE-CPT; CPR Adult
Child & Infant First Aid
AED
Personal Trainer Overview
All personal training sessions are goal oriented and goal driven. The type of training I incorporate depends on the clients' goals, physical limitations, & methods of improving those limitations. Dynamic conditioning; use of "old" & "new" school pieces of equipment like, DumbBells and Kettlebells; Functional Training.
Training Philosophy
MOTIVATION is the spark that lights the fire to beginning a healthy lifestyle and/or improving your current lifestyle. Everyone can use a trainer! Personal Training is for the beginner who has never exercised, the elite athlete training for a specific competition, the former athlete who wants to get back in-shape...and EVERYONE else in between. I motivate my clients by reminding them of their goals and by inspiring them throughout individual sessions. What motivates me is not only hearing a clients' story of how they couldn't fit into their favorite jeans before they started training with me & in time they come back and say how good they felt getting back into them but, when a client tells me how good they feel inside after a session or after they reach a certain goal! Healthy living has an AMAZING affect on how we feel and how we look! Exercise and healthy eating habits improves our self-image and ALL areas of our lives.
Education
M.A. Physical Education & Sport, Exercise Science (Central Michigan University) B.S. Health Fitness in Preventive & Rehabilitative Programs (CMU)
Bio
I've been an athlete for as long as I can remember & really enjoyed staying active. Once I went to college, I was determined to continue working out and getting others involved, my roommates and friends included. I learned that CMU had a program that prepared students for a career in Personal Training/Strength & Conditioning, I was 100% ready! After studying for four years, I was able to do my internship at Atlanta, GA's Piedmont Hospital Health & Fitness Club where I furthered my knowledge and understanding of this field. Once my internship was completed, I finished my last semester of college & got certified as a Personal Trainer through the American Council on Exercise. Immediately after graduating I began working at one of the largest commercial health clubs in Michigan. Soon after, I received my National Academy of Sports Medicine personal training certification. I also, became one of the Boot Camp instructors on a challenge and I completely fell in love with it! A year after graduating from CMU I was accepted into their Master of Arts program for Exercise Science and became a Teaching Assistant. Of course, I can never sit still...decided to do some Personal Training & Boot Camp instruction at the Rec Center on campus! This was one of my favorite experiences, I was in contact with up to 25 college aged women and men who were excited about this new form of training...& ready to meet the challenges I brought every class! It was during this time that I decided to create my own fitness company. Through my experiences with clients, and all of the participants in my group exercises classes, I've learned that MOTIVATION is the key.