THE PERSONAL TRAINER CONNECTION!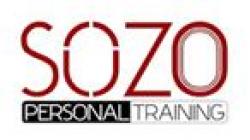 Specialties
Strength Building
Weight Loss
Body Sculpting
Body Fat Reduction
Certifications
NASM Certified CPR/AED Certified
Personal Trainer Overview
SOZO Personal Training specializes in helping real people achieve real results. We help each client achieve their health and fitness goals and get SOZO Fit. All of our client's lose body fat and build muscle. We also help athletes increase their SOZO athletic performance and achieve excellence in their game. Let us help you get SOZO Fit!
Training Philosophy
People have different health and fitness goals, but we feel that there are three major phases: Phase One clients want to regain their health and need to lose weight and body fat while gaining muscle. Many of our clients are/were facing some health issues that have been brought back under control by completing Phase One. Many of these clients engage in the SOZO Challenge or receive personal one-on-one training. You, too, CAN restore your health and reach your goals. Phase Two is for clients that have hit a fitness plateau. These clients have been following a fitness program but are no longer seeing results. Together, we identify specific exercises to help you take your fitness to the next level. We feel we can best serve these clients through one-to-one personal training. With your dedication and our guidance, you will get SOZO FIT and have the muscle definition and that rock hard body you have always dreamed of! Phase Three will push you both mentally and physically. Are you willing to do what it takes to achieve excellence in your game? These clients are best served through one-to-one personal training sessions. SOZO Athletes are dedicated to increasing their athletic performance. Given the correct instruction, you WILL gain the confidence you need to excel!
Education
B.S. San Jose State University
Bio
Heath and fitness have been a large part of my life. Being a personal trainer allows me to share my passion and knowledge with you! I hope to inspire and motivate you to live a happier and healthier lifestyle. With health and fitness, you can achieve your goals, both physically and mentally. Allow me to help you in achieving those goals and taking the steps to a happier, healthier you!