THE PERSONAL TRAINER CONNECTION!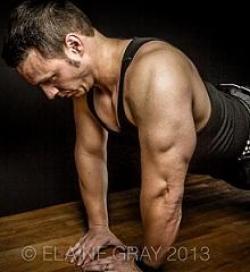 The Dynamic Holistic Training system
Jerry Pitman -
Lansing, Michigan 48906
Trains both men and women.
contact trainer
Specialties
Strength Building
Weight Loss
Body Sculpting
Transformation
Certifications
International Sports Sciences Association Fitness Trainer Currently working on Fitness Nutrition and Elite Trainer
Personal Trainer Overview
Nutrition, plyometrics, free weight resistance, calisthenics, mindset training, suspension training, martial arts and more. A system created for optimal fitness and a style of personal training that sticks! Get fit and have a blast doing it! 2nd degree black (7 years) in Shorin-Ryu and a 7 year first degree brown in Kenpo.
Training Philosophy
Fitness is a lifestyle decision and an important one. Too many p.t.'s overlook this for the sake of "fun workouts" or "quick results". Proper fitness includes many variables not withstanding healthy diet and lifestyle changes. This affects our health, attitude and outlook... and really does change our entire future one way or the other, for better or worse. Choosing a trainer is one of the most important decisions you will ever make.
Education
2 years college O.U. and O.S.U. ISSA, whom I'm certified through, is now also a credited college. Fitness and nutrition has been continual study for me for over 27 years.
Bio
Jerry Pitman is a fitness enthusiast by choice. It's not only his job; it's his lifestyle. Martial arts, health, and nutrition, these are a regular and fundamental part of his life. He lives what he teaches. He takes his own medicine. He loves helping others realize what works for them. In 1989, Jerry had an 9 inch bicep and weighed a meager 150 lbs. Since then, he has faithfully put into practice the tips, guidelines, and formulas he provides his clients as a mobile personal trainer and owner of Pitman Fitness. Now, Jerry has a 17-inch bicep and weighs a healthy, muscular 190 lbs. Jerry also holds a black belt in Japanese shorin-ryu and a brown belt in Chinese kenpo and Korean kang-duk-kwan, teaches boxing, and has studied various styles, such as JKD and jiu jitsu through the years. - Tara Lynn Thompson