THE PERSONAL TRAINER CONNECTION!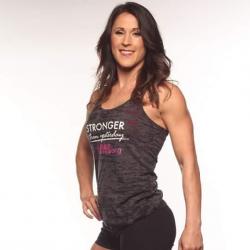 Specialties
Strength Building
Body Building
Weight Loss
Rehabilitation
Body Sculpting
Certifications
ACE Certified Personal Trainer ACE Certified Health Coach
Personal Trainer Overview
Over the years I have developed my own personal training regimen and nutrition plan to achieve the health and physique I desired. With my expertise as my own experienced nutritionist/trainer, an active competitor, along with my certifications, bachelor's degree, and human anatomy & physiology teaching experience, I can create a plan that is right for you! Each of my clients receives a personalized nutrition and training program to fit his or her health fitness level and goals.
Training Philosophy
My philosophy of health and fitness is achieving a healthy, balanced lifestyle and being happy with how your body feels and looks. When the main focus is becoming stronger and healthier, then your body will naturally feel better. Once you feel better, the end result is being happy with how you look. The process takes both physical and mental preparation for your journey. Once you shape your mind, you will shape your body! I believe steady progress with gradual changes is the winning combination to achieve your goals. The all too common swings between extremes of deprivation and overindulgence with nutrition and/or overtraining and undertraining are not the ideal or permanent ways to achieve happiness of your health. I currently stay at a high fitness level year round and guide my clients to this balanced lifestyle. It took time and patience to achieve this balance, and it is so worth it! I teach my clients to learn their body in order to truly achieve balance. Sculpting a physique takes time, patience, consistency, and dedication. Your ideal physique is attainable while still feeling satisfied with exercise and nutrition. When your body adapts to a healthy lifestyle for a long period of time, it craves healthiness. You will feel at your proper energy level which will defer from unhealthy habits without even craving them. This newfound healthiness will increase your confidence along with an improved functioning level of your body, mind, and spirit!
Education
B.S. in Secondary Education for Biology, Cum Laude-Bloomsburg University
Bio
I grew up in the Wilkes-Barre/Scranton area of Pennsylvania and began indulging my fitness passion when I was twelve years old. I discovered gymnastics, fell in love with the sport, and began competing the following year. I continued gymnastics throughout high school and won two district medals. Because fitness had become more than a hobby in my life, I also competed in track for two years as a top sprinter.  While in high school, I worked at the local YMCA as a gymnastics instructor and later as a fitness instructor, but still craved active competition and soon learned about fitness competitions. Immediately, I started training and searching for local opportunities to compete, but before the internet boom, little information was available about health and fitness competitions, and the opportunity to participate in local competitions was slim to non-existent.  Between my hour's long commute and working anywhere from 20-40 hours a week during college, I found little time to continue to compete. I had planned to major in Exercise and Sports Science when I started college but decided to change my major to something that at the time seemed more practical. In December 2001, I graduated Cum Laude from Bloomsburg University with a Bachelor of Science in Secondary Education for Biology. ​ After graduation, I landed a job near Palm Springs, CA where I taught biology and anatomy and physiology. During my time in the desert, I started to dabble in boxing and soon found myself back at the gym full time. Two years later, I decided to move to Los Angeles and to pursue other opportunities. ​ Once settled, I decided to compete again and, more important, to return to the fitness industry. It took a while to rebuild my physique, but I was very determined. Beginning in 2007, I once again competed in fitness and figure in the NPC organization. During this time I started nutrition consulting and personal training part time while teaching full time. ​ In 2009, the NPC introduced a new bikini division. This division was much more suited to my physique, so she made the switch and achieved status in the IFBB Professional League in September of that year. I finally decided to return to the health and fitness industry full time because I quickly realized that competing and helping others reach their goals are what keep me motivated. After two years of competing as a pro and achieving the balance of staying in contest shape year round, I craved a new challenge. As a former gymnast, track athlete, and fitness competitor, I missed the accomplished feeling of finishing a great routine or crossing the finish line. In 2012, I began training in martial arts while continuing to compete as an IFBB Pro athlete. The following year I began competing in jiu jitsu tournaments and continue to do so today. I absolutely love being an inspiration to my clients, students, colleagues, friends, and fellow gym members. My motto is "You can do more than you think!," and taking my own advice to heart has enabled me to live my passion, a passion I am all too eager to share in order to bring out a healthier happier you!