THE PERSONAL TRAINER CONNECTION!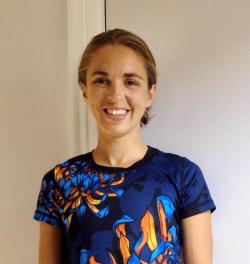 Specialties
Weight Loss
Rehabilitation
Yoga
Spin
TRX
Certifications
NASM-CPT
Madd Dog Spinning
TRX Group Suspension Training
Fittour Group Exercise
Fittour Functional Training.
Personal Trainer Overview
After more than 20 years of competitive running, I have a thorough respect for a systematic training program that emphasizes balance, injury prevention, and a smart progression that emphasizes results and sustainability.
Training Philosophy
I love what I do. I love putting together a program for a client and watching them get results. I love the transformation that occurs when they realize that they are an athlete (and we are all athletes). I focus on creating an individualized, goal oriented program that corrects imbalances, progresses forward, and honors the clients preferences and dislikes. I'm a certified TRX, Spinning Instructor, and USATF certified running coach in addition to being a NASM Certified Personal Trainer. I love variety in my own workout program and I strive to bring that same variety to my clients.
Education
Bachelor of Arts, 2001. Certificate in Graphic Design, 2004.
Bio
Jenn has been running for as long as she can remember, beginning with laps around the backyard and moving onto cross country, indoor track, and outdoor track at the high school and collegiate levels. During her scholastic career she competed at the state, regional, and national level and was a three time National Scholastic All American in the 4x800m and many time all-conference, all-state, and all-section award recipient. She has continued to run since college and has now competed in every standard distance between 200 meters and 50 miles (a 100 will happen someday!), including several marathons and half marathons on both roads and trails, cross country and mountain races, and of course road races. A mom of three, Jenn continues to race with regional team CMS Elite. Jenn believes in smart training to maximize results while staying healthy using intelligent and purposeful progression, and in maintaining a balance both between hard activity and active rest and different types of training days. She has learned the importance of maintaining this balance the hard way and has experience dealing with most common running injuries. Jenn is passionate about living an active lifestyle herself and about helping others reach their full potential in a way that is progressive and sustainable. She works as a youth swim, group exercise, TRX certified Suspension Training and Madd Dog certified Spinning instructor, is a USATF certified running coach, is certified in core and functional fitness, has taken special courses on heart rate training and Heat Acclimatization and Heat Illness Prevention, and is a certified personal training through the National Academy of Sports Medecine (NASM). She is CPR-AED certified. In addition to working with adults she is a volunteer youth soccer coach and runs the Gloucester summer kids track program as well as CADP's youth cross country program. Jenn is also an ambassador for INKnBURN clothing, a technical clothing manufacturer based in California who produces all their clothes in the USA. Use discount code INGJB14 for 15% off your first purchase!