THE PERSONAL TRAINER CONNECTION!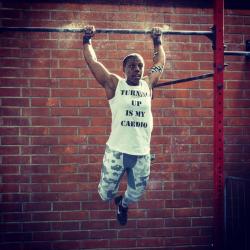 Fitness and Life Coach
Jay Johnson -
(818) 799-1331
Van Nuys, California 91406
Trains both men and women.
contact trainer
Specialties
Strength Building
Weight Loss
Aerobics
CrossFit Weightlifting Breathing
Certifications
CF-L1 Trainer (ANSI) CF Judge 2016
Personal Trainer Overview
My training is FUN! You will work, lift, run, jump, dance and laugh your ass off with me! You WILL meet your fitness goals, but be relaxed and have a good time doing so. Not one day of the week will be the same, in respects to training/programming. Always new and exciting workouts!
Training Philosophy
Being healthy is hard, being unhealthy is hard. Finding happiness is hard, holding onto anger is hard. CHOOSE YOUR HARD! I guarantee the journey to finding happiness and health are much more pleasant! I train HARD 5 days a week with one rest day (Sunday) and one active recovery day (Wednesday). My training is "constantly varied, functional movements, performed at high intensity (the definition of CrossFit!). I also incorporate dance, Pilates, yoga, mobility exercises, and breathing meditation into my weekly routine/programming. My diet is Zone Diet which scientifically proportions my Macros (Proteins, Carbs, Fats) so that every meal has the right amount for optimal performance and overall health. I MOTIVATE my clients with music, games, challenges, humor, knowledge, education and skill! Nothing is worse than a drill-sergeant style trainer that has no fun; and on the flip side its no use to have a fun trainer that doesn't give you any education or help you achieve actual results! I am the trainer that balances fun with work to get geared up and wanting more! NOT to forget the spiritual connectedness of mind/body/spirit, I also train myself and others in breathing meditation.
Education
CF-L1 Trainers Course CF Judges Course 2016
Bio
I am a 28 year old Los Angeles native who is passionate about life and helping anyone I can, become the same way. I've been through my share of ups and downs, to find that our health, our minds, and our bodies are what we have at the end of the day, so we better take good care of ourselves. If I asked my closest friends to describe me, the common response would be a resounding "everybody loves Jay." ..I will admit, I am a pleasant person to be around. I like my mood light and lots of laughter and DANCING! Anytime there's music, I'm dancing (and sometimes when there's no music, ha!). I've seen and experienced poor health/bad habits, depression, anger, rage, among other things, and I choose health, happiness, laughter, dancing, and friends any day of the week! I hope one day we get to meet and can enjoy a moment with each other!