THE PERSONAL TRAINER CONNECTION!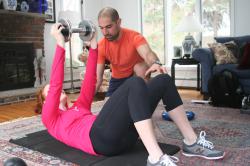 In Home Personal Trainer,Group Training,Boot Camps
Jason Deranian -
781-591-0784
Watertown, Massachusetts 02472
Trains both men and women.
contact trainer
Specialties
Strength Building
Weight Loss
Aerobics
Body Sculpting
Certifications
(ACSM)American College of Sports Medicine - certified personal trainer
Personal Trainer Overview
Personal Training that comes to you! You can get the same outstanding results working out in the privacy and comfort of your home as you can by training in a gym. Jason's in-home fitness techniques include the use of only a few pieces of light equipment: free weights, jump rope, resistive bands, rocker board, exercise ball, TRX suspension training, exercise step, mat and more.
Training Philosophy
I believe that a healthy lifestyle is key to leading a full and happy life. When you are in great physical shape, you are pushing yourself and meeting goals. This development of a positive self-image will move beyond the workout studio and into other parts of your life. Maybe you will have more energy for your family. Maybe you will extend yourself to your friends more often. Or maybe you will reach your goals at work. Getting into great shape can change every part of who you are. I also believe that your exercise regimen needs to constantly challenge and interest you. I will provide you with the necessary tools to reach your fitness goals through progressively challenging and invigorating workouts, as well as a variety of fitness approaches. Fitness should be a life-long endeavor, so you need to be just as excited about it ten years from now as you are the first week of seeing results. I see the trainer-client relationship as a collaboration. When a client is committed to using the tools I provide to them, those goals are achieved. Be ready to work hard. Ask questions. Praise yourself for meeting your goals, and then make more. Are you ready to make some changes in your life?
Education
Northeastern University - Business Marketing Degree (ACSM)American College of Sports Medicine - certified personal trainer CPR/EDU Certified - American Red Cross Specialize in weight loss, core training, sports specific training and functional training
Bio
Jason Deranian was born and raised in a suburb right outside of Boston, Massachusetts. He grew up with a love for playing and watching sports. Jason Attended Northeastern University and studied Marketing, using his business degree he started his own retail business and ran it for 8 years. In the years following college Jason exercised sporadically and ate poorly. He soon realized he was getting fat and out of shape. Jason realized he needed to make some major changes in his life. He remembers looking at pictures of himself from a new year's party wondering where the strong athletic man he once knew so well went. It was at this time that he dedicated himself to a healthy lifestyle and shed his body fat, gained muscle, and got into the best shape of his life. It wasn't easy, but with the right determination, motivation, and support anything can and will be accomplished. It was also during this time that he developed a love for exercise and proper nutrition. Because of this newfound passion for fitness Jason decided he wanted to help others in their fitness endeavors. He decided to get certified as a personal trainer. Jason worked as a personal trainer part time for years, working his retail stores during the day and training clients at night. Jason's passion for training coupled with amazing results his clients were achieving propelled him to make a life altering decision, close his retail stores and peruse training as a lifestyle.