THE PERSONAL TRAINER CONNECTION!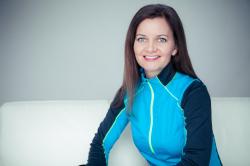 Specialties
Strength Building
Weight Loss
Spin
Body Sculpting
Core Stability Training
Certifications
American Council of Exercise (ACE) Personal Training Certification
American Council of Exercise (ACE) Weight Management Specialty Certification
CPR and AED for the Community and Workplace
Indoor Cycling Instructor Certification (BCRPA/CFES Canada)
Personal Trainer Overview
I am an ACE-Certified Personal Trainer with a specialty in Weight Management. I train clients at The Fitness Connection, a private personal training studio in Irvine, California. My approach to personal training is client-centric, meaning that each workout is specifically tailored to a client's individual needs. Expanding on general fitness, areas in which I help clients include resistance training, cardiovascular training, weight management, core stability exercises, lean muscle gain, strength training for postural improvements, low impact workouts, and HIIT training. I am also a BCRPA- and CFES-Certified Indoor Cycling Instructor (Canada).
Training Philosophy
It is important to me that every client knows they are welcomed and respected, regardless of their fitness background. I strive to make exercise a positive experience that builds a client's confidence in their physical abilities. In order to maximize adherence to a fitness program, I help clients set realistic goals that are achievable through regular exercise while maintaining time for other important aspects of life.
Education
I hold Personal Training Certification and Weight Management Specialty Certification through the American Council of Exercise (ACE). I'm CPR/AED certified. I also hold a Bachelor Degree in Fine Arts and I'm a BCRPA- and CFES-Certified Indoor Cycling Instructor (Canada).
Bio
Prior to working as a Personal Trainer, I was a real estate marketing executive, so I understand challenges facing busy professionals in sedentary (desk) professions. At the age of 40 I embarked on a new career path because my true passion in life is helping people achieve better health and fitness. I hope to serve as an example of how it is possible to create new habits and the life you want, at any age.