THE PERSONAL TRAINER CONNECTION!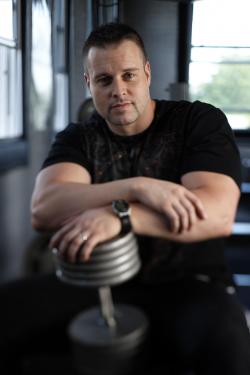 Celebrity Fitness Trainer
James Villepigue CSCS -
(516) 659-0079
East Northport, New York 11731
Trains both men and women.
contact trainer
Specialties
Strength Building
Body Building
Weight Loss
Rehabilitation
Aerobics
Body Sculpting
Life Coaching
Training Locations
home
work
gym
studio
outdoor
Certifications
Certified Life Empowerment Coach CSCS (certified strength and conditioning specialist) Certified
Personal Trainer Overview
I am a celebrity fitness trainer and International Bestselling Fitness and Health author. My books, The Body Sculpting Bible and fitness system, are regarded as one of the most famous fitness book franchises and systems, in history.
Training Philosophy
My passion is something referred to as Metabolic Resistance Training. I offer a proprietary based fitness system that radically helps to burn body fat and build lean muscle tissue. It is a fast-paced workout system and all of my clients love it. I have no doubt that you will too...especially the results you're going to quickly achieve. It takes hard work and discipline, but I am a motivator and love helping people stick to their goals and achieve lifelong success.
Education
Bachelor of Marketing degree Massage Therapist degree Certified Life Empowerment Coach CSCS (certified strength and conditioning specialist) Certified
Bio
Celebrity fitness trainer, James Villepigue, is a 23-year health & fitness industry veteran and an International best selling author of 30 books. His flagship book series, entitled, "The Body Sculpting Bibles", have sold over 2 Million copies over the last fourteen years and are regarded as one of the most successful fitness book franchises in history. James is a Nationally Certified personal trainer under the "National Strength & Conditioning Association's" prestigious (CSCS), and holds many additional national fitness certifications. James is a graduate of New York's Hofstra University, with a BS in marketing. He also studied oriental medicine and became a Massage Therapist and received a degree from the New York College of Health Professions. In addition, James is also a graduate of the highly acclaimed life coach training school, the Institute for Professional Empowerment Coaching (IPEC). The success of his fitness and life improvement systems and his extensive training and coaching experience have propelled James to appearances on countless national television programs and achieved him publication in many nationally recognized health, fitness and lifestyle magazines. Over the last two decades, James has helped millions of people change their lives from the outside in. His body sculpting programs and other proprietary master fitness plans are credited as the very means that have helped his readers empower themselves to create their very own physical masterpiece. James is driven to help people discover their life potential and he starts by getting people to stop making excuses and gets them to take massive and immediate action. "I am committed to getting people to break away from their "ordinary lives" – The majority of the ordinary, spend way too much of their precious time sitting on couches, typing on keyboards and wasting away on game consoles…It's high time that people recognize the fact that we can gain control over many of life's challenges and this control always leads to many more positive outcomes. When people see, first hand, just how powerful a healthy lifestyle is for changing just about every single aspect of a persons life, they always wish that they had started earlier, because they finally realize that they have the ability to sculpt their ideal life!" say's James Villepigue. Some of James' previous work includes having been co-owner of the Survival Race. This family-focused 5k obstacle course & mud run is a national race circuit and is the exclusive obstacle race of The Arnold Sports Festival and the worlds largest theme park, Six Flags Great Adventure. James was business partners with Arnold Schwarzenegger, and was very lucky to have the former Governor make daily appearances to speak to racers and high-five thousands at a time! Over the years, James has used obstacle races as a tool for getting people even more invested into their fitness training. James wrote the industry's first obstacle race training book, published by Penguin, publisher to the prestigious "Idiots Guide" book series. His book, "The Obstacle Race Training Bible – The #1 Resource To Prepare For & Conquer Any Course!" was released in the winter of 2013. He also developed the entire BodyBuilding.com Obstacle Race Training section. In his pursuit to help children, James also recently released a book dedicated to helping our youth, entitled, "Combat Fat For Kids", published by Random House. Some of James' most recent work is the launch of his Body Sculpting Bible Workout Journals and the 4th Editions of the Body Sculpting Bible books. Many thousands of his readers were begging for a journal and asked if the BSB team had any plans for develop a means to help them better track their training goals and individual workouts and nutrition history. The books are a labor of love and we're honored to deliver an additional tool for helping them achieve their goals! Over the years, James has established many ways of helping his readers and colleagues broaden their own market reach. From inventor/IP creation of exercise related equipment and cross-industry consultant for the sports supplement industry and private equity investment sectors to a seasoned ghostwriter for industry icons and corporate giants, in a nut-shell, James is an extremely passionate New York based serial entrepreneur who is driven by helping others succeed. James has been featured on National television shows, including: • "Regis & Kelly Show" • "The Maury Show" • Appearances on CBS, NBC, FOX, ABC, the W-B, and many others. Written For & Featured In Nationally Recognized Health and Fitness Magazines: • Fitness • Self • Women's First • Women's World • Maximum Fitness • Oxygen • Marie Claire • Cosmopolitan • Muscle-Mag International • Men's Health • Fitness Rx • Muscle & Fitness