THE PERSONAL TRAINER CONNECTION!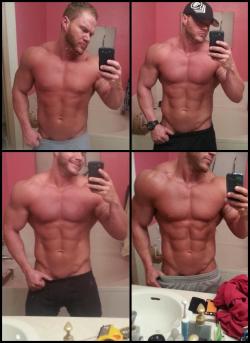 The results start when you do!
jake purdy -
Denver, Colorado 80247
Trains both men and women.
contact trainer
Specialties
Strength Building
Body Building
Weight Loss
Rehabilitation
Body Sculpting
Personal Trainer Overview
It's time to take your health to a while new Level! - Nutritional guidance and easy to follow diet plans that are designed for you to help obtain the best results possible. - High intensity workouts 1 hr long in home or at my gym. - Competitve prices - 10 years + experience
Training Philosophy
You have to force the body to change. If your body can already do something easily then it has no reason to change. People always say it's 75% diet and 25% training. It's 100% everything. Let me teach you the techniques that you Can take with you for the rest of your life.
Education
Exercise Science -Missouri Western state 10years of experience 12 national qualified bodybuilding shows Most recent show I took first place
Bio
Years of blood sweat and tears, and finally i can share my passion with the world...     My name is Jake Alan Purdy.  Im a Professional Fitness trainer specializing in Photo Preperation for Models and fitness Competitors.  Im known at my gym for having an incredible knowledge of nutrition. I have been in the fitness industry for as long as i can remember.  My Dad got me into it at a very young age of 12.  Thanks Dad!     My first job was at the front desk of Sunset Beach fitness club in Arvada, Colorado. I fell in love with health and fitness and from there took it as far as i possibly could by working towards my degree in Exercise Science and Nutrition.     Now I bring my passion, knowledge and experience to you.  Working with a large client base for the last 10 years has helped me reach a whole new look on fitness.  Not everyone is trying to be a fitness pro.  But everyone does want to be healthy.   I am also very active in fitness and fashion Modeling. I now have great modeling experience and travel, yet i believe in having an incredible portfolio.  I will read every email and comment and they are greatly appreciated.  PASSION IS CONTAGIOUS... CHANGE THE WORLD AND BE REMEMBERED.  Thanks,  Jake Alan Purdy  Jake Purdy Fitness  Personal trainer and Fitness Model