THE PERSONAL TRAINER CONNECTION!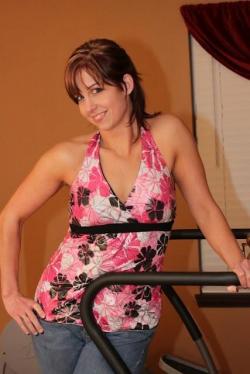 Specialties
Strength Building
Body Building
Weight Loss
Rehabilitation
Body Sculpting
Certifications
National Personal Training Institute
IDEA Health & Fitness Association member
and NSCA member.
Personal Trainer Overview
Be Envied Personal Training provides personal training for "real" people. People have lives and jobs and should not spend all of their time working out. Training techniques are focused on what YOU want and what YOUR current physical conditions is. Focused training includes personal training for people who want: weight loss, increased strength, youth training, pre and/or post-natal exercise, injury rehabilitation, general trimming and toning, abdominal focused conditioning and sport-specific training, professional or fun, such as golf conditioning & improvement.
Training Philosophy
Training includes instruction in resistance training, flexibility, nutrition (eating sensibly without hopping on the diet bandwagon), cardiovascular conditioning, and functional training. You will learn proper technique and the reasons why each of these areas of fitness are important. You'll cross-train (change activities), and we will change how hard you work over specific time periods so you'll stay interested, have fun, and keep the results coming. Rather than performing a flurry of mindless activity that gets you little more than sweaty, you will get a program that provides the maximum return for the goals that you set for yourself. Although your trainer knows what to accomplish with your program, it would not be complete or as effective unless your thoughts, feelings, and opinions are considered as we develop an individualized personal training program for you. Your input is critical in helping design an ever changing program that can meet your fitness, health, and nutritional needs.
Education
Certified Personal Trainer – NPTI (included 500 hours of practical personal training). Coursework: Bioenergetics; Adaptation to Aerobic and Anaerobic training, Age and Gender Differences in Training; Aerobic Endurance and Resistance Training; Program Design; Biomechanics; Nutritional Studies; Risk Stratification in Coronary Artery Disease and Diabetes; Eating Disorders & Obesity; Endocrine Responses to Personal Training; Energy Balance; Fitness & Assessments; Muscular Structure; Water Balance; Periodization; Plyometrics; Resistance Training and Spotting Techniques; Rehabilitation and Recovery; Special Populations; Speed and Agility Training; Stretching and Warm-up; Weight Management; Supplements; and Complete Muscular Anatomy. Adult CPR/AED through Red Cross.
Bio
Heather Johnson is a fitness professional dedicated to her personal training business and her personal training clients.