THE PERSONAL TRAINER CONNECTION!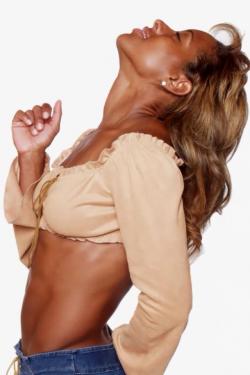 Personal Trainer/Fitness Coach
gwen bolden -
(310) 930-5875
Granada Hills, California 91344
Trains both men and women.
contact trainer
Specialties
Strength Building
Weight Loss
Spin
Body Sculpting
Training Locations
home
work
studio
outdoor
Hiking
Certifications
AFAA
IDEA Health & Fitness Association
Personal Trainer/Group Fitness Coach
Personal Trainer Overview
My basic style of training varies from the level of individuals needs and concerns. I prefer, strengthening with bands, dumbbells and utilization of weights if training in a gym. I always incorporate cardio whether its jump roping, running or riding bikes. My clients onl need to show up with a desire to see CHANGE taking place, and THEY are the ones that will make that change. A little encouragement, motivation and a person can truly become healthier. I tell my clients, that if "you connect with your trainer," "you will get results. Therefore, getting the mind ready for change. I won't give up on my client as long as my client wont give up.
Training Philosophy
My style of training is a lot of circuit type. I believe a person will not get their desired goals unless they change the way they eat. Nutrition is more than 80% in my book. A client has to be consistent. My way of motivating my clientele, is that I "encourage them, by bringing out their best." I don't demean them. I also, use myself as an inspiration. I am turning 49 years young in December 2013. It doesn't matter what age a person starts, just start. I advise my clients, that "you are worth it." You have been given one body, make it the healthiest it can be.
Education
Personal Trainer/Spin Instructor 2001-2002 for Bally's Health & Fitness, Studio City, CA ; J-Netics Fitness Center, Encino, CA 2002-2003; Exercise Instructor, Children's After School Program, 2002-2003 (S.T.A.R. Program) in Compton, CA; Boditron Fitness Academy, Marina Del Rey, CA; 2003-2005; Personal trainer/Group Instructor; Improve Health & Wellness (the Compound) Personal Trainer, group trainer, 2006-2007 (Private in-home Fitness Coach 2007 to present.
Bio
I started working out as a young woman working as a Legal Secretary for a large law firm in California. I was very stressed. I also noticed, that I was getting a little thick!!! I am not very tall and I knew that I really would be stressed if I became overweight. I more importantly, saw how Corporate America treats individuals who become overweight in the job place, and its not really fair. Some people have serious health issues. As I worked out in the gym, people would often ask me questions pertaining to my workouts and I decided that I really -really like how I am feeling by working out, and if I can inspire just "one" person to not give up, but to give into "making the best change" of their life. "The healthier you are the happier your are."As I mentioned earlier, I will be turning 49 in December 2013, and I am grateful that I have and am keeping me a priority.