THE PERSONAL TRAINER CONNECTION!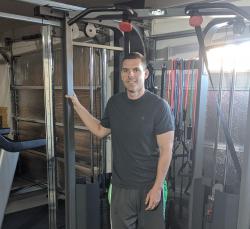 Enjoy working out in a private home gym without the distractions you get at a normal gym
Greg Haase -
(520) 444-6320
Gilbert, Arizona 85295
Trains both men and women.
contact trainer
Specialties
Strength Building
Weight Loss
Rehabilitation
Aerobics
Kick Boxing
Body Sculpting
conditioning
Certifications
A.C.E. (American Council on Exercise) Certification #T100911 Personal Trainer and Group Fitness NASM
Personal Trainer Overview
Greg Haase Personal Training Since 2004 -- Workout in a great home gym training studio with everything you need to get in shape without the distractions you get at the gym. -- No crowds, no waiting for equipment. Always super clean!!!! And yes, has AC so it's cool :) -- Motivating, energetic and creative -- Weight loss, toning, sports specific training, conditioning, kickboxing, flexibility and nutrition -- 45 Minutes -- $35 per session -- 2 people just $10 more -- Located near Ray and Val Vista in Ashland Ranch
Training Philosophy
I train people of all ages and abilities. I will design a program tailored to your goals and make necessary modifications to your workouts if any injuries or limitations. My sessions are 45 minutes. My prices are competitive but affordable to allow you to train more to help you reach your goals! One-on-one personal training will provide you with an individualized program based on your goals. The workouts are high energy and will keep you motivated with lots of variety in the program. I will continually teach you new exercises, different techniques with proper form to work certain muscles effectively. Switching up the intensity and repetitions will keep your body guessing which prevents your body from reaching plateaus. The workouts will keep you moving from exercise to exercise and you will get more out of your sessions in less time. Most people drop out of an exercise program because they get bored with it. My goal is to keep it fun with plenty of variety and new challenges. My goal is not to break you and your body down. I want to help you get a routine you can make a lifestyle out of and carry on for life with.
Education
University of Arizona - Degree in Science and Kinesiology - Classes and training in Exercise physiology, nutrition, rehabilitation, special populations, fitness assessment, strength training, weight loss, sport conditioning, golf, kickboxing, kettle bell training, core training, group fitness and boot camp.
Bio
I grew up in Tucson Arizona. I was always involved in a lot of sports as a kid and I played golf and basketball in high school. My older brother and uncle were big influences on me with fitness and it became a hobby of mine at a young age. I have been personal training for 10 years now. I started working at a 1 on 1 studio in Tucson which was a great place for me to start. I really learned from some of the best trainers I have met to now. I moved to Phoenix in 2006 to work at Anytime Fitness where I became the Training Director. I enjoyed working there but there were many distractions with training at a public club. I was very interested in having my own business and I started own in December of 2008. The clients and I really enjoy working out in a training studio without all the distractions at a club. I have helped many people reach their goals and help people achieve goals they never thought they could achieve.