THE PERSONAL TRAINER CONNECTION!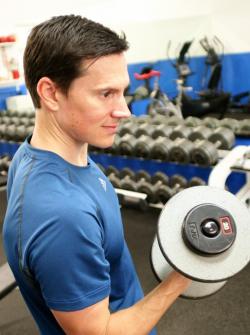 Specialties
Strength Building
Body Building
Weight Loss
Rehabilitation
Certifications
ACE Certified Personal Trainer
ACE Certified Medical Exercise Specialist
ACE Certified Orthopedic Exercise Specialist. IDEA member.
Personal Trainer Overview
Versatility is my strength and my desire to learn more to help my clients succeed no matter what hurdles they face has led to their success with results and my success as a trainer. I have over 18 years of experience as a personal trainer. My education includes a degree with honors in Kinesiology from Cal State San Bernardino, ACE Certified Personal Trainer, Certified medical exercise specialist, Certified Orthopedic Exercise Specialist, and I'm in the process of working on my Corrective Exercise Specialist certification. My clients get the best quality of service available ensuring safe, effective programming that alleviates pain from chronic conditions through muscular support. My scope of practice ranges from endurance athletes to post rehab and individuals with chronic health conditions. I offer a complimentary consultation before making a commitment.
Training Philosophy
I promote the middle way when it comes to exercise; a healthy balance of exercising that encourages lifelong fitness and reaching an optimal you. I promote the only approach proven by science to reach and maintain healthy fitness goals; permanent lifestyle change. I promote proper progression, not "no pain, no gain" that emphasizes correcting issues through the body with strengthening that improves the overall quality of life. I take a fun/variety approach to fitness to make it easier to enjoy, and thus, maintain your exercise program.
Education
BS in Kinesiology (the study of human Movement) from Cal State San Bernardino.
Bio
At 13-years old I won a one-mile foot race. From that moment on, I thought running was everything in the world. I held onto that belief for several years, letting my excitement for running fill every chamber of my heart. But over time that excitement morphed into an obsession, and during my sophomore year in college, my body responded to that obsession. It delivered a crippling blow to my heart in the form of a stress fracture to my foot. Filled with energy to keep exercising, I could not stop moving, so I jumped onto a mountain bike and fell in love all over again. I found mountain biking not only relieved pressure on my foot, but also sutured the hole my running injury had inflicted upon my heart. This relief carried me through college where I competed with some of the best mountain bikers in the world while I simultaneously made my love for exercise official: I earned my kinesiology degree. After college I found a job as a personal trainer and my love for exercise found a way to transition from an obsession to a lifetime lesson. Through working with my clients to help them balance fitness with their busy lives, I learned something about myself. I learned that physical health is not the only element of fitness. Instead, for optimal fitness I found the psychological was just as important as the physical and I needed to embrace both. Taking this to heart, I slowed down—but only a little—and channeled some of that excess energy into pursuing emotional balance through helping others. I do this by providing personal training services to clients at my own personal training studio (of twelve years) where I help clients make fitness a part of their lives in a positive and supportive atmosphere.