THE PERSONAL TRAINER CONNECTION!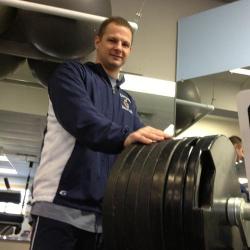 Specialties
Strength Building
Weight Loss
Rehabilitation
sports conditioning & perfor
Certifications
Certified Master Trainer Certified Sports Nutritionist Medical Exercise Specialist AAH&FP American Association of Health & Fitness Professionals CPR Certification (current)
Personal Trainer Overview
At AFC, we specialize in one-on-one personal training, giving every client our undivided attention and support. We offer each individual a unique program, geared to his or her goals and fitness level.
Training Philosophy
We combine the latest trends in exercise science with time-proven techniques in corrective, strength, and athletic training and nutrition to ensure the success of our clients. Using creative program design and on-going support to help each individual, we have helped hundreds of people in the South Jersey area lose weight, build muscle, improve their game, and better their quality of life. Our clients range from 10 years old to over 70, with many diverse goals and fitness levels. We are able to modify exercises to provide a safe and effective program for any age, physical restriction, and ability.
Education
Every trainer with AFC is certified in multiple specialties, and/or has a degree in a fitness related field or nutrition.
Bio
I am the founder, owner, and lead trainer of AFC Personal Training, and have had 25 years of experience training clients of all ages and levels of fitness. As a Medical Exercise Specialist, I'm comfortable working with clients who have medical issues and injury. My education and experience allow me to target and improve muscle imbalances in a safe and effective manner. I have extensive experience in training clients for weight loss, strength, balance, pre and post rehab, and post-bariatric. I have a background in wrestling and football, and am still active in sports, coaching youth wrestling and football teams every season. I offer boot camps for sports teams of all kinds and of various ages, and am able to work one-on-one with athletes in any sport. I also train many adult competitive runners and triathletes in the area. Recently, I've become a coach at Spazz Wrestling Club of Cherry Hill, NJ. I coach, design programs, and offer personal training sessions for those interested.