THE PERSONAL TRAINER CONNECTION!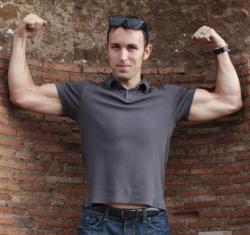 Committed to you achieving your goals through evidence based training & nutrition that gets results!
Gabriel DeVine -
(818) 850-1843
http://www.devinephysiques.com
Sherman Oaks, California 91423
Trains both men and women.
contact trainer
Specialties
Strength Building
Body Building
Weight Loss
Aerobics
Body Sculpting
Corrective Exercise Training
Certifications
NASM - CPT NASM Fitness Nutrition Specialist NASM Corrective Exercise Specialist
Personal Trainer Overview
I am a certified personal trainer, certified nutritionist, physique coach, and natural bodybuilder dedicated to helping people realize their goals and potential through a no nonsense, scientific approach to health, fitness, and nutrition.
Training Philosophy
My training is centered around tackling all of the different aspects of your health-- Your muscles, your posture, your nutrition, your heart, and your mind. My training involves doing hard work; following basic scientific principles that are proven to work; simplicity, both in nutrition and training; moderation, both in nutrition and training; variety, both in nutrition and training; enjoyment, both in nutrition in training; and pushing oneself as hard as they can.
Education
I am certified as a personal trainer from NASM; I also hold nutrition and corrective exercise specializations from NASM. I'm also currently studying for a B.S. in Exercise Science, and have taken continuing education courses in Bodybuilding and Cardio for Performance.
Bio
In my youth, I struggled with obesity. I was very uncomfortable with my body and didn't even like to smile because it emphasized how wide my face was. I experimented with various diets and different approaches to weight loss. Ultimately I achieved my goals from a simple, scientific approach. Now I am an independent, NASM certified personal trainer, NASM certified nutritionist, NASM certified corrective exercise specialist, physique coach, and bodybuilder.