THE PERSONAL TRAINER CONNECTION!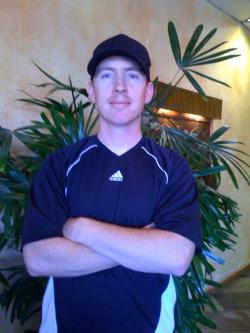 Certifications
I have been certified through ACE and NCSF.
Personal Trainer Overview
Fit For Life Boot-camp is a weight loss and fitness lifestyle group training boot camp that runs year round and who's goal is to give clients fast, measurable results and help them maintain their fitness lifestyle through fun, non-competitive group and personal training. We primarily train women and men age 25-55 who are in relatively good health.
Training Philosophy
Our training philosophy is mind/body. Our focus is to bring out the best in each person. We acknowledge we all have strengths and weaknesses and we help people create strategies that form habits of health. Once habits of exercise, nutrition, stress relief, etc. are formed, the changes will happen on auto-pilot. We believe each person has the capability to make lasting change in their life through our fitness boot-camp and other training programs.
Education
I attended college for 5 years before I realized my desire to pursue my passion in the fitness industry. I have real world experience as a professional fitness trainer for 10 years and I am owner of Fit For Life Solutions.
Bio
I have been certified through ACE (American Council on Exercise) and NCSF (National Council of Strength and Fitness. I am a 2nd degree Black Belt in the Korean martial art of Tae Kwon Do. I have studied meditation with a Zen master for 10 years. I have worked for major chains as a personal trainer (I was a level 4 trainer at Bally Total Fitness) and have owned 2 successful training businesses. I am current owner of Fit For Life Solutions and the Fit For Life Bootcamp.