THE PERSONAL TRAINER CONNECTION!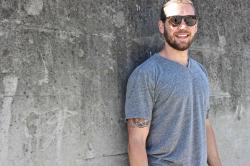 Custom Fit Personal Training & Nutrition - San Francisco, CA
Evan Mather -
(415) 891-7120
San Francisco, California 94102
Trains both men and women.
contact trainer
Specialties
Strength Building
Body Building
Weight Loss
Rehabilitation
Yoga
Pilates
Body Sculpting
Certifications
National Academy of Sports Medicine - Certified Personal Trainer (CPT) National Academy of Sports Medicine - Performance Exercise Specialist (PES) National Academy of Sports Medicine - Corrective Exercise Specialist (CES) International Sports Science Association - Certified Fitness Trainer (CFT) American Swim Coaches Association - Swim Coach
Level II American Red Cross - CPR/AED/O2 Instructor American Red Cross - Lifeguard Instructor (LGI)
Personal Trainer Overview
If you're looking to lose weight, rehabilitate from an injury, build lean muscle or simply get fit, you've come to the right place. As a former swim and water polo coach, current personal trainer and avid athlete, I started Custom Fit to utilize the most up-to-date, evidenced-based techniques to safely and effectively help you reach your goals. All of the trainers here have specialized certifications and years of experience helping people recover from and prevent injuries, eat healthily, and create pathways for lifelong fitness. Finding the right personal trainer is extremely important so what we do is offer two no-commitment sessions for $99. This hopefully allows you ample time to get a feel for our style and the studio. The first session will consist of us talking about your health, nutrition, life activities, and fitness goals. During this time I will diagnose any muscle imbalances and test your balance and flexibility. This usually takes 45-60 minutes. The second session will be a workout. You will get a chance to see our type of program and get a feel for what to expect. This session will last the full 60 minutes. Should you decide to move forward after these two initial sessions we'll take biometric measurements, get your weight and body fat percentage, begin tracking your nutrition, and start providing awesome recipes. If you have any questions about anything please don't hesitate to ask. Thanks, Evan
Training Philosophy
Born and raised in Oregon, fitness and athletics have always been a part of my life. From water polo to powerlifting to yoga, I view the diversity of my personal experience combined with science, proper nutrition, and education as the foundation for my approach to fitness. As a personal trainer, I recognize that everyone has a different concept of fitness and it's my job to use my experience and knowledge to safely and effectively get results. Simply stated, I opened Custom Fit to provide the absolute best personal training and nutrition services available. We all follow a training protocol that has a primary focus on core strength, functional movements, correct form, and proper nutrition. From there, each program is custom fit to you and your goals, which we will track to show progress. Our objective is to help you achieve your goals as efficiently, safely, and as easily as possible.
Education
National Academy of Sports Medicine - Certified Personal Trainer (CPT) National Academy of Sports Medicine - Performance Exercise Specialist (PES) National Academy of Sports Medicine - Corrective Exercise Specialist (CES) International Sports Science Association - Certified Fitness Trainer (CFT) American Swim Coaches Association - Swim Coach, Level II American Red Cross - CPR/AED/O2 Instructor American Red Cross - Lifeguard Instructor (LGI) Arizona State University - Bachelor of Arts (U.S. History)
Bio