THE PERSONAL TRAINER CONNECTION!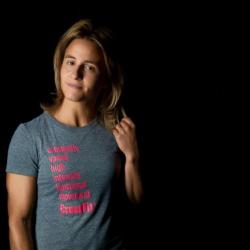 One-on-One Personal Training, Evolved.
Erin Curtis -
(978) 377-7756
Haverhill, Massachusetts 01832
Trains both men and women.
contact trainer
Specialties
Strength Building
Body Building
Weight Loss
Yoga
Kick Boxing
Certifications
NASM - Certified Personal Trainer CrossFit - Level 1 Certified CPR/AED and First Aid Certified
Personal Trainer Overview
I am the owner of Mach Evolution, a unique Personal Training Studio at a convenient location in Haverhill, MA. Each Session is 30 or 60 Minutes, at our Private Studio - no others train with us as we reserve the Facility for each Client's 30 Minute Session. This allows for maximum results in the most comfortable environment possible - All of my trainers, including myself, are NASM-Certified, and we are well-networked with local Dietitians to create a powerful support system. In addition to Personal Training, we now hold regular Yoga and Meditation classes, sessions and workshops - to complete a total Mind-Body wellness experience at one amazing location.
Training Philosophy
Our Mission is the Evolve the Fitness Industry by simplifying the Personal Training and Fitness process - while making it more efficient, comfortable, exciting, and effective. Every session is meticulously tailored to each Client's goals and needs - for ALL Skill Levels and Ages. Our programs (Personal Training, Yoga, and Meditation), are standalone, but are able to work together at a Client-Level. "Your Smile is your logo, your personality is your business card, how you leave others feeling after having an experience with you becomes your Trademark"
Education
National Academy of Sports Medicine Reebok - CrossFit
Bio
My desire to work in the fitness industry ventures far beyond watching clients crush workout routines while counting down their repetitions. What compels me lies in the understanding that no two clients are alike, therefore, no two journeys will ever intersect. Everyone has aspirations they're striving to reach in different ways, at different times in their lives, and for completely different reasons. Given that knowledge, Mach Evolution was created. A mindful environment built around customized, innovative workout programs that combine the right amount of cardiovascular exercise with strength training that gives new meaning to what personal training was once known as. I grew bored and unimpressed with what I was seeing and hearing elsewhere and wanted nothing to do with that kind of lackadaisical approach to fitness. I wanted to blow people away with something more. At Mach Evo, each program is specifically tailored to meet the needs of every client. I'm not just a trainer, but a reliable support system. I'll motivate you to do your best, do your homework and go the extra mile. If what you want is in fact really what you want then you'll have to work hard for it. No excuses. I want nothing more than to witness our members evolve into the healthiest version of themselves. In here, you can confidently step out of your comfort zone and your steady progression will be all the proof you need to realize that you're on to something amazing. All I ask for in return is that you trust in me and give it 110% effort. Any trainer can get you there, but together, we'll get there in a safe and dynamic way. I'm serious in practicing what I preach. I enjoy working out as much as I enjoy training my clients because I have goals too! From strength training to running, biking, skiing, and hiking, as well as participating in obstacle course races such as Reebok's Spartan Race Series, I'm forever looking to kick up some dust. I also make it a point to stay on top of the educational portion of my job, always looking to learn and add to my arsenal of workouts. My Fitness and Wellness career began as my personal past time over 10 years ago. Since then, I now hold a personal training certification with the National Academy of Sports Medicine (NASM) and a CF-L1 (CrossFit Certification).