THE PERSONAL TRAINER CONNECTION!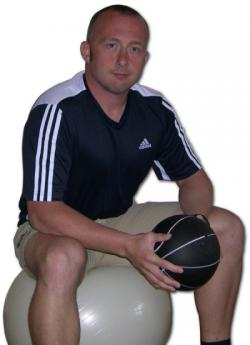 Look, move and feel your best!
Eric Frey -
(520) 351-9074
Tucson, Arizona 85741
Trains both men and women.
contact trainer
Specialties
Strength Building
Body Building
Weight Loss
Rehabilitation
Body Sculpting
Certifications
ACE Certified Personal Trainer since 2009
Personal Trainer Overview
I focus on helping people to grow to their fullest potential in body and spirit through challenging, and fun workouts. I tailor your training to your health and fitness goals, and challenge you in a way that will strengthen you and give you confidence to attain not only your fitness goals, but anything you seek in life!
Training Philosophy
I feel that a challenging fitness program is not only good for the body, but good for the mind and spirit as well. In strength training, I encourage exercises that require the use of the whole body, or as much of it as possible, such as deadlifts and push ups. Our body is not a collection of single muscles and joints. It is one amazing machine, and I train it in a manner that takes into consideration it's design. I emphasize form, and safety, while motivating all whom I train to go as heavy and as intense as possible within their own current level of fitness. I love to integrate circuit training and high intensity interval training into the workouts I design. For someone who is looking to develop high endurance for sport, or even general fitness, I will push you to ever higher heights of stamina and endurance in both your muscular and cardiovascular systems. I honestly feel that when we exercise at a level of intensity that is high, yet proper for our current fitness level, that we also develop mental strength and fortitude. The ability to push on despite difficulty, and reap the rewards of hard work is a character trait that is most satisfying to develop, and will have you feeling like you can accomplish anything. Of course, I also feel that rest and stretching are also important, and I emphasize the need for that as well. Tight muscles are no fun, and can even lead to injury, no matter how strong they are. When training with me, you will have the opportunity to work out with dumbbells, barbells, kettlebells, medicine balls, resistance bands, and stability balls. You may sprint or run a distance. You may feel the excitement and challenge of plyometrics, or the tranquility of yoga. As your fitness level increases, I will encourage you to try new and more exciting exercises that will show you just how strong you are, and help give you confidence to use your body in fun and imaginative ways!
Education
I have studied at Pima Community College, and have focused my continuing education on holistic fitness, injury prevention, and martial arts performance. I continue my studies at Pima Community College with a focus on biology and business.
Bio
For most of my childhood, I was an avid reader and video game player. For most of my adult life, I have worked behind a steering wheel or a desk. All of that sitting down doesn't do much for keeping one healthy. When I started training martial arts, something I've always had an interest in, I found out just how out of shape I was. I wanted to really enjoy my martial arts training, and I knew I needed to increase my strength and stamina to do so. I started reading about exercise methods, and the more I learned, the more I became passionate about it. I became ever more impressed with how our bodies work and what we can train them to do. As I got stronger, faster, and thinner, I also got excited about sharing my knowledge with others. I have attained certification through the American Council on Exercise as a Personal Trainer, and continue my studies on fitness, health, martial arts, and mind/body fitness. I look forward to sharing with you.