THE PERSONAL TRAINER CONNECTION!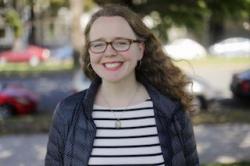 Specialties
Rehabilitation
Aerobics
Body Sculpting
Certifications
I did my graduate training at the California Institute of Integral Studies where I specialized in East-West approaches to emotional health
including meditation
yoga
and writing.
Personal Trainer Overview
An experienced clinician providing therapy in downtown San Francisco, and specializing in healing anxiety, depression and relationship issues. Also adept with the adjustment to motherhood and parenting issues.
Training Philosophy
I am a psychotherapist in private practice in San Francisco. My specialties are depression and anxiety, with both individuals and couples; and in guiding moms through the inner crisis of motherhood.
Education
I am in a 2-year Fellowship at the San Francisco Psychoanalytic Center. I have trained at the Palo Alto Psychoanalytic Center, and at the Institute for Intuitive Listening in Berkeley.
Bio
Personally, I am lucky enough to be in a very happy 23 year relationship, and together we are raising two sons.