THE PERSONAL TRAINER CONNECTION!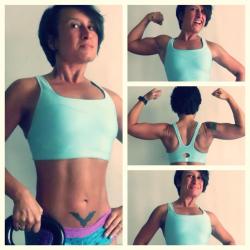 Elan Potter
Elan McAfee -
(501) 672-5450
Hot Springs National Park, Arkansas 71913
Trains both men and women.
contact trainer
Specialties
Strength Building
Body Building
Weight Loss
Rehabilitation
Yoga
Aerobics
Spin
Body Sculpting
Certifications
NFPT Certified Personal Trainer FiTOUR Group Exercise Instructor FiTOUR Indoor Cycling Instructor
Personal Trainer Overview
Congratulations on taking that first step toward a stronger, healthier, and happier you by exploring your personal fitness training options! With a sea of facilities and DVDs like Insanity and P90X, it can be difficult to decide what is the best workout plan to fit your needs. This is where personal trainers, or fitness consultants, come into play. With quality in-person or online personal training, you get one-on-one attention from someone in the know and can discover the best workout routine to fit your current ability and future goals. Each person is different and Elan's personal approach is tailored to individual needs, allowing her to create achievable goals based on your lifestyle and physicality. She gives each client one-on-one attention and uses all the tools of the trade at her disposal to identify your issues and help you make positive changes in your lifestyle. Contact Elan today for more information about in-person training sessions in Hot Springs, AR or for online training anywhere across the globe.
Training Philosophy
Everyone has the potential be stronger and healthier. By stronger, I mean not just in physical strength but also in your heart and mind. Strength and fitness are hand in hand, but you can apply what you learn and how you feel to every aspect in your life. That means what you do in your cardio or weight lifting workouts can actually make you happier when you're not actively working out.
Education
B.A. English
Bio
It has been a winding road that brought me to the fitness industry, but I don't regret a bit of it and am thrilled to have found my way. I've worn a lot of hats from bartender to university instructor, but there is nothing that excites me more than being healthy and fit, and I want everyone to seize that satisfaction for themselves. My experience in other arenas actually sets me apart from the sea of other trainers and consultants out there. As a bartender, I learned how to relate to just about anyone and develop above average people skills. My experience as a teacher and in education in general is incredibly valuable because personal training is teaching - it's teaching you the skills to embrace a healthy decisions as part of your everyday lifestyle.