THE PERSONAL TRAINER CONNECTION!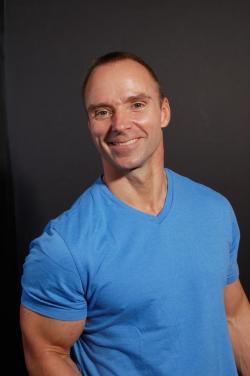 Doug Murphy: Washington, DC Certified Personal Trainer
Doug Murphy -
(202) 297-3092
Washington, District of Columbia 20010
Trains both men and women.
contact trainer
Specialties
Strength Building
Weight Loss
Rehabilitation
Certifications
ACE Certified Personal Trainer since 1996- I currently hold an American Heart Association CPR/AED Healthcare Provider certification as well. I attend many seminars
classes and conferences each year in order to stay on top of the latest research and training methods. After running two successful training businesses in Chicago and Miami
I am now based out of Washington
DC.
Personal Trainer Overview
With over 20 years experience as a certified personal trainer, I've helped many people in the Washington, DC area meet their goals, overcome limitations, and challenge themselves. Just starting? I'll set you up with a complete personal training program that's easy to follow, efficient and effective. Need to update or reinvigorate your current training routine? I'll help you get past plateaus and start making progress again. Hate exercise? You'll find a personal training experience that is not only enjoyable, but you'll learn something in the process! Think you don't have the time? I'll help you find ways to fit exercise into your life, with flexible scheduling, in-home training, and travel workouts. Have special needs? I work with deconditioned older adults, post-rehab clients, chronic pain sufferers, and others with multiple health challenges.
Training Philosophy
believe every individual is capable of attaining their optimum physical condition, if made aware of their potential and how to achieve it. As a personal trainer, I've seen clients from ages 14 to 92 accomplish things they never thought possible. We don't all have the genetics to be a supermodel, athlete, or bodybuilder, but everyone can improve on what they have. My mission as a personal trainer in Washington, DC is to educate my clients about exercise, diet and maintaining a healthy lifestyle. My goal is to empower them to make the most of their abilities: through knowledge, direction and encouragement. Ever felt lost and confused when trying to work out on your own, even after using the services of a personal trainer? Never again-you'll understand every aspect of your program. I encourage clients to take an active interest in accomplishing their goals, and I welcome their input and feedback throughout the entire training process.
Education
BS- Business
Bio
Life as a self-employed personal trainer has been interesting, to say the least. Training clients across the USA, from Chicago and Miami to Philadelphia and Washington, DC. Helping a rock star get in shape for a 6 month European tour. Contributing to Men's Fitness magazine, ACE Certified News, IDEA Fitness Journal, and AtoZFitness.com. Featured fitness consultant for a variety of newspaper and magazine articles, as well as TV and radio appearances. Media rep for TEAM Arthritis, an exercise program sponsored by Pfizer and the American Orthopedic Society for Sports Medicine. Fitness modeling in Miami. Pretty exhilarating stuff for someone who was once an overweight, unathletic child. The discovery of a barbell set in my grandfather's basement changed all that… Background My fitness career started in the heyday of Nautilus, leg warmers, and Duran Duran (You can probably guess the decade). Five years as a fitness instructor at various health clubs during college led to local bodybuilding competition and fitness modeling. After a brief period in the fields of finance and commercial fitness equipment sales, I returned to what I had a real passion for-helping people reach their fitness goals, and sometimes changing their lives in the process.