THE PERSONAL TRAINER CONNECTION!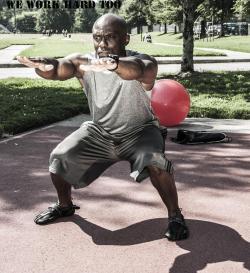 This is Fitness for Life!
Donald Cumberbatch -
(404) 565-6861
Smyrna, Georgia 30080
Trains both men and women.
contact trainer
Specialties
Strength Building
Body Building
Weight Loss
Rehabilitation
Aerobics
Body Sculpting
Training Locations
home
work
outdoor
United States
Certifications
NASM CPT CPR/AED Certificiation
Personal Trainer Overview
DCBodyworks was founded with one main goal in mind -To pave the way for our clients to succeed and achieve their fitness goals in their own convenient, comfortable surroundings. We are distinct in our approach, because we personalize the fitness training experience through a more intimate, informative, and genuine relationship with each client. Our staff is comprised of the best fitness consultants, an advice nurse, and a nutritionist, and each each of these individuals are highly experienced and skilled in their specific field. We are certified, licensed, bonded, and insured. You can be assured that you are in safe, reliable hands when making use of our services. Contact us to discover the DCBodyworks experience. This is fitness with a passion.
Training Philosophy
Let us bring the personal fitness training to you. We are unique in that we offer in-home/on-site personal training services. Enjoy a great workout from the convenience of your home, office or local facility of your choice. This is fitness for your life! Our services include: - An initial fitness assessment and personal training session - In-home/on-site training at your home, office, or other acceptable locations - On-site corporate training, nutrition lectures, and sports-related medical informational classes - One-on-one personal fitness training, partner personal fitness training, and small group (3 to 5 individuals) fitness training - Outdoor boot camps - Sports-specific training - Bodybuilding - Core specific and cardiovascular and strength training - An on-call nutritionist for nutritional coaching, including fat and weight loss management, stress reduction and management, increased endurance, flexibility and posture and balance development/enhancement, and much more
Education
Currently pursuing a degree in Exercise Science at Georgia State University.
Bio
With over twelve (12) years of fitness related experience and seven (7) years of professional fitness training experience, Donald Cumberbatch has been helping individuals meet and/or exceed their fitness goals and change their lives for the better! Donald is a nationally certified personal (CPT) trainer by NASM and is currently pursing his Performance Enhancement Specialist (PES) certification. He doesn't just speak fitness - He lives it! He is an avid athlete and enjoys participating in various sports activities such as basketball, flag football, softball, volleyball and soccer just to name a few. He is currently pursing the goal of opening his own private fitness studio in the summer 2014 in downtown Atlanta.