THE PERSONAL TRAINER CONNECTION!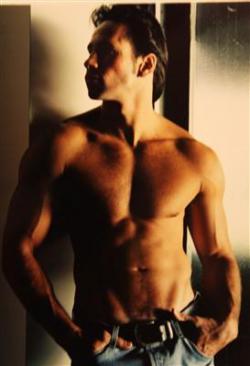 Most Affordable & Efficient Trainers in the Valley!!
David Boivin -
818-749-1641
North Hollywood, California 91601
Trains both men and women.
contact trainer
Specialties
Strength Building
Body Building
Weight Loss
Yoga
Aerobics
Body Sculpting
Tae Kwon Do
Training Locations
home
gym
studio
work
outdoors
World Sports Center
Certifications
Certified by NCCPT ( National Council of Certified Personal Trainers) CPR Accredited
Personal Trainer Overview
($99) Personal Training Intro. Package Start out strong with three fun and energetic sessions that'll introduce you to the many benefits of fitness training, through a professionally guided workout experience. SESSION 1 You will get accustomed to your trainer, establish your goals, and determine your body fat percentage. Depending on those results we will start you on either an aerobic or anaerobic routine and in some cases both. Plus, you'll get to hear some great stories**. SESSION 2 Will be a full 60 min. of aerobic exercise that will consist of a full body workout with one thing in mind….. BURN FAT! SESSION 3 Lastly, you will spend 60 min learning how to workout anaerobically using barbells, dumbbells, cables and all machines in order to ….BUILD MUSCLE! These sessions will vary based upon your fitness level and experience. At the end of these three sessions, you'll come away feeling inspired, energized and more comfortable and confident with a better understanding of what we have to offer you. We're so confident you'll see the benefits of working out one-on-one with a Personal Trainer during these three sessions, that we will credit you the cost of your introductory package price toward your next Personal Training purchase.* * Must use all 3 sessions and apply credit to your next personal training package within 30 days after the date of purchase. Credit cannot be used towards the Rock Hard Boot Camp. **stories told by Dave Personal Training available to you at very affordable rates in the Greater Los Angeles area. Whether I see you in the comfort of your own home, the park or gym, my rates begin as low as $20 a session, depending on how many times a week, location (gym, park or home) and format. in which you train. My rates are for anybody willing to show up. My core belief is– desire and discipline. Half of it is YOU showing up. The other half…well YOU just leave that to us. Rock Hard Boot Camp is $10 a session and is available Monday, Wednesday and Friday from 7pm-8pm. However, if you buy online RIGHT NOW you can get the class for even cheaper by purchasing a monthly BOOT CAMP PASS for $99. With this pass you will be able to access up to 12 classes from the date of purchase to 30 days later.…with this Boot Camp you WILL feel results within a month
Training Philosophy
I will honor anyone's dedication anytime from 5am - Midnight, six days a week Starting at $20 per session. I am driven by a passion & obsession to help you create the ultimate body you desire for yourself. Whatever your goals may be.
Education
Economics Major with 12 units from a Bachelor's in Arts Degree in Economics Heath & Nutrition and Geography Minor Personal Trainer since 1994 Certified Personal Trainer since 1999
Bio
After ten years of training from gym to gym, I realized that the pedestrian training programs offered by the "Big 3" fitness factories were less than dynamic and far from inspiring. In fact, like most of the people I trained, I found them to be boring and stagnant. I was part of what I coined "cookie-cutter fitness" where assembly line work-out regimes were designed for one size fits all. I dreamed of becoming the solution where the trainer had to be as unique as the student. Inspired, I saw the need for a dynamic and engaging work-out. Studying best practices of the best trainers, I created "Nu Tae Kwon Wei" -- a revolutionary method of physical fitness never witnessed before. I wanted to keep fitness simple, clear and diverse. Having fun and getting tore up from the floor up using the fundamentals of nutrition, Tae Kwon Do and Weightlifting. Through this, Boot Camp* was born a class that is far more personal than any other "group" training program on the market. Complimenting this results oriented program, David added Yoga, Football, Jiu Jitsu, Soccer and Boxing to encompass a broader and more comprehensive fitness regime. In short, Boot Camp is loaded with a variety of sports and exercises that are motivating and engaging! Time and time again people shy away from fitness and classes because they look difficult or complicated. Not with Boot Camp. Boot Camp is easy to learn yet more challenging than anything you've ever experienced. Beginners will learn kicks while Intermediates develop punches and blocks. Finally, the Advanced will become experts in combinations of choreographed action moves, defensive and offensive all while wearing ankle and wrist weights weighing anywhere from 3-6 pounds depending on skill level. Following the theory that your body will build a tolerance to anything and everything, Tore Up's trainers are on a constant never ending pursuit to shock your body with a wide array of exercise and techniques. Depending on who shows up for role call, the Boot Camp format is always different. - the dread of monotony is never there. Always new. Always fresh. Always Tore Up! *Boot Camp is $10 a session and is on Monday, Wednesday, and Friday at 7pm At the World Sports Center located at 5101 Lankershim Blvd in North Hollywood. Hope to see you ripped soon...