THE PERSONAL TRAINER CONNECTION!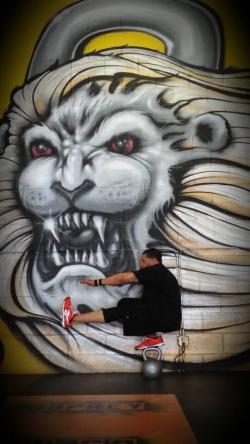 Darrell Gallow -
719-359-7907
Colorado Springs, Colorado 80918
Trains both men and women.
contact trainer
Specialties
Strength Building
Body Building
Weight Loss
Rehabilitation
Body Sculpting
Crossfit
Training Locations
home
work
gym
studio
outdoor
Functional Training Solutions
Certifications
2014 Crossfit Level I Certification 2012 Graduate of the National Personal Training Institute (NPTI) Studies in NASM
NASM-CES & PES
NSCA-100 hours Basic Nutrition National Federation of Professional Trainers (NFPT) CPT CPR/AED Certified
Personal Trainer Overview
I am a trainer and part owner of Functional Training Solutions, have ten years of fitness experience and have been a Certified Personal Trainer for three years. I love strength training and working with clients to remove their fear of weights. Women have always had a fear of lifting weights because of the belief of looking manly – that is far from the case! Strength training increases lean muscle mass, which helps your body burn calories more efficiently and improves your quality of life. As far as metabolism goes, muscle mass is the "engine" of the calorie-burning machine. As you strength train and increase your muscle mass, you build a bigger, more efficient engine that burns more calories and helps you lose weight. I believe in "Functional Fitness for a Functional Life." After leaving 24HR Fitness my goal was to get people off machines. In the commercial gym setting you see people (even trainers with their clients) young and old sitting on machines. That's not how our bodies were developed to move. We should be able to move with full range of motion from point A to B in all planes of motion. Sitting on a machine that restricts movement can hurt you more than it helps you. The main purpose of starting FTS was to have a place for all people to learn how to effectively use free weights and body weight movements to reach their fitness goals. Functional training, if performed correctly, will lead to better joint mobility and stability, as well as more efficient motor patterns. Improving these factors decreases the potential for an injury sustained during an athletic endeavor.
Training Philosophy
"Functional Fitness for a Functional Life" If you checkout out www.facebook.com/ftsco you'll see that we aren't a gym made of equipment machines. We like to train our clients using bodyweight movements or free weights using DBs, BBs, Med Balls, Slam Balls etc.
Education
2012 Graduate of the National Personal Training Institute (NPTI) Studies in NASM, NASM-CES & PES, NSCA-100 hours Basic Nutrition 2012 National Federation of Professional Trainers (NFPT) CPT Worked at 24HR Fitness for a year and was a trainer there before leaving to open up my own gym. 2014 Attended CrossFit Level 1 Seminar
Bio
I've been in the fitness industry for about 10yrs and I love every part of it. It's even better now having my own place to train clients out of and being able to focus on the training aspect of it rather then it being a sales focused environment like at 24HR where I was before. I love to work with clients 1on1 to really dig into their fitness needs and help them work around issues that they may need to overcome.