THE PERSONAL TRAINER CONNECTION!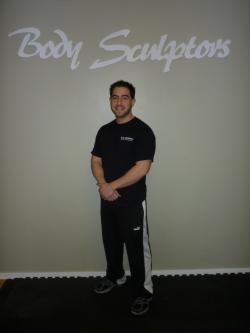 Certified Fitness Professional
Danny Ribaudo -
973-703-0701
Caldwell, New Jersey 07006
Trains both men and women.
contact trainer
Specialties
Strength Building
Weight Loss
Rehabilitation
Aerobics
Kick Boxing
Body Sculpting
Certifications
AFAA Certified Personal Trainer CPR and AED Certified
Personal Trainer Overview
I gear my training toward two main goals: Results & Fun. I love being spontaneous and diverse when training my success stories. I range my workouts from circuit training, to cross training, to traditional exercise movements. I am always educating myself on new and exciting workout routines. I also believe strongly in nutrition. I offer a full proof training package!!
Training Philosophy
I put the personal back in personal trainer. No two people on this earth are the same therefore no two workouts should be the same either. Everyone has their strengths and weaknesses which I become aware of and tailor fit my routines to each individual. I believe in meeting a person where they are at mentally, physically, and spiritually. The integration of the these three areas will allow you to experience optimum well being. Continuously shocking the body is my specialty. You never know whats in my bag of fun, health, and exercise. Whether we are cross training, resistant training, or circuit training you will receive care, attention, and grade A service. I am here to fulfill your needs and work at your pace. You will leave my studio happy and energized. If you choose to follow my individualized Eat Right for Your Type nutrition plan you will be absolutely astounded by the transformation of your life!! So what are you waiting for!?
Education
AFAA Certified Personal Trainer
Bio
Three years ago I was smoking a pack aday, 25 lbs overweight, lethargic and full of toxins. I stand before you today a non smoker, fit and in shape, and full of energy and passion. Not having the natural genetics of a lean fit body, I understand the hardships one faces to become and stay healthy. I dedicate myself to making sure you will reach your goals. I found a way that absolutely works for me and I cant wait to share it with you!!