THE PERSONAL TRAINER CONNECTION!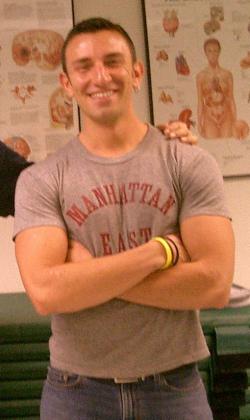 Physical Therapy and Personal Training
Dan Spinello -
516-330-3215
New York, New York 10009
Trains both men and women.
contact trainer
Specialties
Strength Building
Body Building
Weight Loss
Rehabilitation
Body Sculpting
Certifications
Doctor of Physical Therapy (DPT) Certified Strength and Conditioning Specialist (CSCS) by the National Strength and Conditioning Association (NSCA) Credentialed Clinical Instructor of Physical Therapy by the American Physical Therapy Association (APTA) Licensed by New York State to practice Physical Therapy
Personal Trainer Overview
I work with clients to guide, teach and motivate them to meet and exceed their own goals, whether those be weight loss, increasing muscle mass, strength training, sport performance, functional training, or general conditioning. My clients range all ages, body types, fitness levels and exercise experience, from first-time gym users to experienced triathletes and everyone in between.
Training Philosophy
Training has to be individually tailored for each person. No two bodies are exactly alike, and everyone's responds differently. Every training routine is based on goals that YOU set. You tell me where you want to go, I plot the course, and go there with you. I am here to educate and guide you, motivate and encourage you. Push you past your old limits. I am a big advocate of weight / resistance training. No routine should be without it. You can't expect to stay lean or strong without ensuring you have adequate muscle to burn calories. That doesn't mean you have to "get big,' but it does mean you need to at least maintain optimal muscle tone. I'm not going to spill all my secrets here, but please get in touch with me to discuss in more depth.
Education
I earned my doctorate in physical therapy (DPT) from NYU after Ireceiving my Bachelors of Science Degree in Biology from SUNY Purchase. I am a Certified Strength and Conditioning Specialist (CSCS) by the NSCA and have been training for the last 8 years. As part of my academic program, I was trained as a mat-based pilates instructor by Power Pilates. I am a New York State licensed Physical Therapist, specializing in Orthopedics and sports medicine, and am credentialed by the American Physical Therapy Association as clinical instructor for physical therapy students.
Bio
Aside from my academic background listed above, I currently work as a personal trainer in various locations throughout Manhattan, NY. In addition I work as a physical therapist at International Center for the Disabled. Prior to that I worked for Hospital for Special Surgery where I worked in the Sports Medicine and Rehabilitation Center treating sports-related injuries, The Joint Mobility Center, which specializes in post-operative arthroplasty patients as well as rheumatological and arthritic conditions. And I have worked in the hospital, bedside in the acute-care inpatient area, with patients immediately after surgery. Outside of the hospital, I have worked with patients in their homes following various orthopedic surgeries and injuries. I am involved in research at HSS, working on a study with Hunter DPT students to identify the impact of physical therapy on length of hospital stay. I have given several presentations at HSS on topics including "ACL Reconstruction and Rehabilitation," "Arthrogenic Muscle Inhibition: From ACL to OA," and most recently an education seminar open to the public on "Customize a Fitness Plan for You."