THE PERSONAL TRAINER CONNECTION!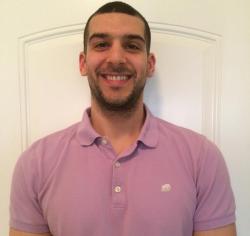 Specialties
Strength Building
Body Building
Weight Loss
Rehabilitation
Yoga
Body Sculpting
Flexibility
Certifications
NASM - Certified Personal Trainer NASM - Performance Enhancement Specialist
Personal Trainer Overview
I am an expert personal trainer I have been training for 5 years and all of my clients see unbelievable results within the first month of training. I am very busy and I only take serious clients so please do not contact me if you are not interested in working hard.
Training Philosophy
I like to train my clients based on what conditioning level they are currently in. I will never make my clients do something they are not comfortable doing or they are not capable of doing. If they have any injuries I will make sure I do not make them do anything that can hurt them. Diet and exercise are very important when it comes to living a healthy life style as well as proper beliefs about oneself. I address all aspects of health because it is the only way one will see lasting results. Fitness is my life and I know what works and what doesn't and I believe most personal trainers have no idea what they are doing when it comes to training clients. Most of them are steroid junkies that know nothing about proper exercise or nutrition.
Education
I have been personal training clients for over 5 years now and mostly work with high class people.
Bio
Fitness is a personal thing for me because when I was younger I was not very healthy and was out of shape. When I was 12 years old I decided I had to change my life and began a new life of health and fitness. I have been living a healthy lifestyle for the last 11 years now and I have not looked back. Everyday I learn about new things involving exercise nutrition and even things like what's in your food and natural remedies for illnesses. Health is not only my passion but it's my life and I want to make it yours.