THE PERSONAL TRAINER CONNECTION!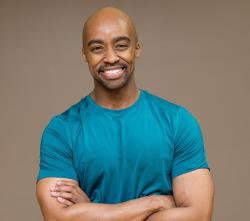 GOT PROBLEMS? I HAVE YOUR SOLUTION!
Conway Norwood -
(248) 345-0720
Novi, Michigan 48377
Trains both men and women.
contact trainer
Specialties
Strength Building
Body Building
Weight Loss
Aerobics
Spin
Kick Boxing
Body Sculpting
Dance
Certifications
- ACE-Certified Fitness Trainer - Spin cycling - Zumba - Zumba Gold
Personal Trainer Overview
I am an experienced fitness trainer and group exercise instructor who has worked with hundreds of individuals from all walks of life to achieve their physical fitness goals! With experience in a variety of fitness styles, including High Intensity Interval Training, Core Training, Flexibility, Kickbox Cardio, Spin Cycling and Zumba, I combine strength training and cardio to ignite the body's metabolism, burn unwanted fat, keep fat off, and keep the body looking spectacular! You WILL find progress and success with me by your side!
Training Philosophy
In order to get the results that you're looking for, you MUST have strength training, cardio and a clean diet in place. However, that trifecta encompasses so many different options. Whatever your flavor is, follow it to get what you want! Do you enjoy the outdoors? Exercise outside! Do you absolutely LOVE fatty foods? I have a plan to make your cravings work FOR you rather than against you! Do you like to dance? Zumba! Are you a hardcore fitness buff? Turn beast mode ON! Whatever your inclination, I can help you with it all and give you the results that you dream of!
Education
Bachelors of Science in Media Broadcasting (Eastern Michigan University)
Bio
I am the oldest of five children, raised by a single mother who worked hard to take care of my siblings and I. One thing that she always encouraged me to do was to follow my dreams and make them happen, and that's exactly what I've done for myself and many other people! After graduating from Eastern Michigan University, I worked in radio broadcasting for seven years, during which I realized the importance of living a healthy and active lifestyle. I grew up out of shape, and having had family members that have suffered from chronic conditions and died as the direct result of unhealthy lifestyle choices, regular exercise and a consistently healthy diet were a no-brainer for me. After some time, I toyed around with the idea of moonlighting as a fitness professional. In 2010, my opportunity had come and I became a certified Personal Trainer. Since then, I've worked at a number of health clubs in the Metro Detroit area. I currently train one-on-one and in small groups at Powerhouse Gym in Novi, MI, where I am also a group fitness instructor, and I am a kickbox cardio instructor at TruFit Fitness Studio in Northville, MI. In addition to kickboxing, I teach a wide variety of formats, including Zumba® Fitness, Spin cycling, step cardio and boot camp. I've developed a reputation as a tough trainer, but I've proved efficacy with clients that require less intense training styles. I continue to build my business and perfect my craft as a fitness professional. My objective in 2010 was to do my part to make Michigan fit, and I intend to continue to do just that!