THE PERSONAL TRAINER CONNECTION!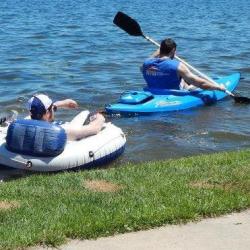 Specialties
Strength Building
Body Building
Weight Loss
Rehabilitation
Body Sculpting
Functional Fitness
Training Locations
home
work
gym
studio
outdoor
Snap of Okemos
Personal Trainer Overview
I pride myself on progressing both advanced clients, and clients with challenging, unique obstacles such as obesity, Parkinson's Disease, and even blindness. I welcome just about any challenge. I offer one-on-one personal training, classes, group training, fitness event hosting, in-home training, and free assessments. My objective is to help others become strong and healthy through education, good practice, and motivation. I put my clients through workout programs designed specifically for them, each workout is unique to you and your needs, so no two workouts are the same. I am experienced with various progressions and adaptations for any stage of fitness, I enjoy keeping exercise as fun, fresh, and effective, as possible. In addition to personal training I instruct group classes, group sessions, couples training, and outdoor training.
Training Philosophy
I tailor all of my exercise programs to your goals. It's all about attitude. So do whatever you're doing with a good one! If you're serious about your goals, I will get you results! Exercise and a healthy lifestyle are extremely effective tools for managing stress, and anxiety, and just feeling healthy.
Education
Internship at Snap Fitness of Okemos Studied Weight Training 1, 2, Kinesiology At Lansing Community College 2010-2011
Bio
My fitness background began in high school with football, wrestling, and track. For most of my life I was overweight, unhealthy, and sedentary. I had very poor self control, but over the past 6 years I've managed to change that. By switching to an active lifestyle. I lost 80lbs, and managed to replace a lot of that lost weight with muscle. I'd like to help others experience the satisfaction and pride, that can be earned through living healthy, overcoming goals, and setting new goals.