THE PERSONAL TRAINER CONNECTION!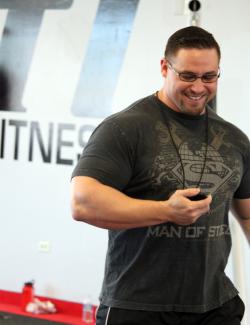 Cleon Gionet - Complete Personal Training in AZ
Cleon Gionet -
602-369-1465
Gilbert, Arizona 85296
Trains both men and women.
contact trainer
Specialties
Strength Building
Body Building
Weight Loss
Powerlifting, Real World Combat,
Personal Trainer Overview
Whatever your goal, get can get you there. Cleon offers expert training in weight loss and weight training, powerlifting, bodybuilding, real world combat and custom nutrition plans.
Training Philosophy
Cleon has always had a passion for fitness and brings a lifetime of diverse experience in many different areas. Cleon has over 5 years experience as a fully certified personal trainer. He boasts an impressive past in everything from Competitive Powerlifting and Bodybuilding to Mixed Martial Arts and even Pro Wrestling! Cleon offers a unique training experience that only a lifetime of real world experience can provide. Cleon is ready to pass this knowledge on to you. Cleon provides training on everything from Real World Combat to Weight-training and Bodybuilding. With a Bachelor's Degree in Exercise Science and an Apex Certification, Cleon is to fully equipped to meet your diet and nutrition needs. Cleon will help you design your own diet plan to help you meet your goals. Whatever your goal, Cleon will get you there. Contact Cleon to schedule your first session! You will find that Cleon has a unique and welcoming personality and a talent for instruction. You're guaranteed to have a good time and your first session is free!
Education
Bachelor's Degree in Exercise Science: NHCTC '99-'01 :
Bio
5+ Years of Personal Training 13+ years experience in Weightlifting Powerlifting Meets '95-'99 (bench press, clean&press, squat, power curls, and deadlifts) Independent Pro Wrestling '96-'04 (hundred's of matches) Mma 10 matches –all wins at lightheavy weight