THE PERSONAL TRAINER CONNECTION!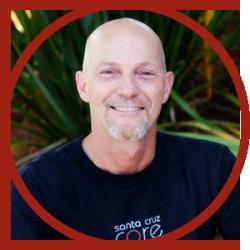 Elite Trainer
Clark Carabelas -
(831) 425-9500
Santa Cruz, California 95060
Trains both men and women.
contact trainer
Specialties
Strength Building
Body Building
Weight Loss
Body Sculpting
Certifications
Certified Personal Trainer
Personal Trainer Overview
Clark also specializes in post injury rehab and re- injury prevention. With his vast knowledge and experience, Clark is able to individualize programs for each person he works with, and feels there is nothing more gratifying than making a positive difference in someone's life.
Training Philosophy
Injury Prevention and Sports Rehab
Education
Clark is a Certified Personal Trainer with the National Academy of Sports Medicine. He has a B.A. in Psychology and completed two years of graduate studies in Physical Therapy.
Bio
Clark's extensive background includes more than 12 years in orthopedics and geriatrics, and the past 15 years as a Personal Trainer and Nutrition/Lifestyle Consultant. He has completed advanced studies in scientific back, core, and specialized sports conditioning subjects, including golf, motocross, tennis and horseback riding. Clark has presented as a guest speaker at numerous business meetings and healthcare seminars.His experience extends to all ages and lifestyles, from the sedentary to the elite athlete, with or without complex medical histories.