THE PERSONAL TRAINER CONNECTION!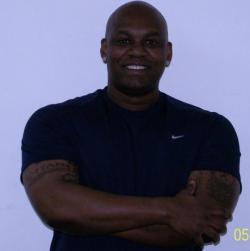 Scottsdale Fat Loss Expert
Clarence Ferguson -
(602)299-9357
Scottsdale, Arizona 85251
Trains both men and women.
contact trainer
Specialties
Strength Building
Body Building
Weight Loss
Rehabilitation
Kick Boxing
Metabolic Nutrition
Certifications
RTSM
MET
APEX
Kick Fit
TRX
CMTA
NT
Personal Trainer Overview
CLARENCE FERGUSON RTSM,CMTA: Clarence Ferguson is a nutrition specialist and Certified Fitness consultant who has been in the industry for over 27 years with expertise in clinically based nutrition. Many people never realize there fitness goals due to misinformation and "one size fits all advise". Fat loss, weight gain and hormone balance can all be corrected through proper nutrition. Through applied nutrition therapy, Clarence can teach you how to balance your bodies regulatory functions, so that the body will find its own healthy balance. This is accomplished by creating nutrition programs specific to each individual.
Training Philosophy
We care about you and your results - Some trainers in the industry might view you as another paycheck. We take pride in helping and guiding you throughout the training process so that you can reach your goals in the least amount of time 2. Individual Programming – Our Meal Plans and training programs are customized and are based on your goals, level of experience, needs, and lifestyle. This approach is much more effective compared to the "one size fits all". 3. Unique Philosophy - We integrate the mind, body, and nutrition into our training programs. This process is vital in order to unlock your true potential and will lead to faster, more permanent results. 4. Qualified Trainers - Our trainers are qualified, experienced, and professional. A common problem in the personal training industry is trainers who either flaky, unprofessional, or unqualified. We know how important your goals are and will help you reach them by using the latest technology in nutrition and exercise. Also, we are not drill sergeants. A common approach to personal training is yelling and screaming. This external motivation technique does not work. We use internal motivating factors that can help a client reach their goal in a more positive way. Motivation should come from within and not be external. We take pride in using an empathetic approach to personal training. This type of motivation leads to lasting and more permanent results. 5. Quality of Service – We respond to your needs by giving you ongoing diet and training advice. This advice is crucial for you to maintain progress. 6. Teaching and Education – We teach you how to change your body from the inside out so that you can maintain your new self for the rest of your life. We focus on Nutrition, teaching you what to eat, cook, and outline important aspects of eating healthy such as grocery shopping, eating out, best places for meal delivery, and ordering in. We teach you everything you need to know to create your best body
Education
Clarence's background is wide and diverse. He attended RTS123 Resistance Training Specialist Mastery Program graduating with a honor few in America hold, the coveted RTSM brand. While Personal training in 90's, Clarence was a model for Nike and a print model. Clarence's also toured North America providing continuing education for KICK FIT Kickboxing as a Continuing Education Provider. After struggling with his own personal issues with the fitness industry, he decided to dedicate his life to solving health challenges and not following the current and popular fads. Clarence is now an entrepreneur in the fitness industry focusing on personal training, public speaking, fitness modeling, and media. Clarence is certified by several leading companies and trains in North Phoenix and Scottsdale Arizona. He also does in–home Nutrition consulting, and has a website that can service anybody in the world for a nominal monthly fee
Bio
Clarence is one of the most recognized trainers in Scottsdale and North Phoenix with a client list that includes various figure competitors, body builders and business eliete. He is the founder of Beyond Conventional Wisdom LLC, has been a fitness spokesperson for Several fitness publications, manages two health and fitness web sites, was featured 5 times on KTVTV channel 12 news "fitness segment, was featured on several Urban radio programs in the late 90's discussing health issues for minorities, and runs a successful personal training practice. His approach to weight loss is both unique and compelling. He uses a three dimensional approach which includes the Nutrition, resistance training, and accountability. This approach has been extremely useful and effective to help people lose unwanted body fat.