THE PERSONAL TRAINER CONNECTION!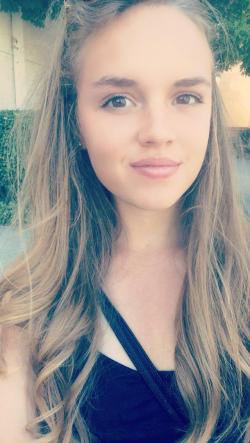 Temecula Personal Trainer
Cierra Burnett -
(951) 551-9364
Temecula, California 92591
Trains both men and women.
contact trainer
Specialties
Strength Building
Weight Loss
Nutrition
Certifications
ISSA Fitness trainer CPR/AED Certified
Personal Trainer Overview
I give my clients the option of a 6 or 12 week program, during which we start by figuring out what your long term goals are, what you like to do to stay active and how I can help you achieve your goals. Then we begin building a base later adding on strength and resistance training. I work with my clients when coming up with a program so that it will be fun and satisfying.
Training Philosophy
I believe that being healthy is a feeling not a look.
Education
Graduating High school in 2013 I received my personal training certification through ISSA and am currently in the process of obtaining my youth fitness certification
Bio
My name is Cierra, I'm 21 and I strive to be the healthiest and happy human being that I can be for my family and for myself which to me means feeling healthy. Growing up I lived most of my life outdoors. I was fit, fast and could lift hay bales all day long. I felt invincible. But like most kids I only put junk in my body. Because I was very fit I didn't think anything of it. It wasn't until I reached high school and my poor eating habits began catching up with me. I ran Varsity Track and Cross country so I was still in fairly good shape but I never felt good. I was always tired and grumpy. I never realized it was because of what I was putting in my body. I mean you are what you eat right? For lunch everyday I ate a soft pretzel with cheese and a jumbo cookie. I know a lunch of a champion... After I graduated I made a vow to myself that I would end the poor eating habits and focus on getting back in shape. It became an obsession. I was running 5 miles a day and though I was eating healthier I wasn't consuming enough calories. I did not feel good and I wasn't happy. I was gifted The Body Book by Cameron Diaz and fell in love immediately. I learned so much from it and it because I related to her. She inspired me to become healthy. So I continued Running everyday but I logged everything I ate and made sure I was eating enough. I started cooking for myself rather than ordering take out. I added in strength training and began listening to my body when it was trying to tell me something. I went on a vacation back home in the PNW and had dinner with a friend. He asked what I was doing differently and I said I'm eating right and staying in tune with my body. He said to me "You should totally become a trainer" I looked at him and laughed, like ya right me a trainer? But what he said planted a seed in my head and I would think about it briefly throughout the rest of my vacation. When my vacation came to an end I stopped in San Francisco. I saw the Golden Gate and was itching to run across it. When I did I stopped and took in the view of the bay area. I had never felt more alive, more healthy, and more powerful in my body. That's what I wanted to help others achieve. That's when I decided to become a trainer. The moment I got back home I enrolled in a program and dedicated my summer to studying. When I finished and received my certification I started training my family and the impact that I saw on them was amazing. Currently I'm studying to train our youth and to teach them health habits. I strive to keep people moving and being healthy. Every week I post a short instagram video encouraging others to get up and get moving. Check it out @cierranicholas (: