THE PERSONAL TRAINER CONNECTION!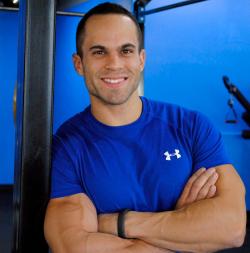 Castle Rock's Best Personal Trainer
Christian Lauber -
(720) 550-1858
Castle Rock, Colorado 80109
Trains both men and women.
contact trainer
Specialties
Strength Building
Body Building
Weight Loss
Aerobics
Body Sculpting
$5 Fit Camps, Athletic Training,
Certifications
ISSA Certified Personal Trainer ISSA Specialist in Performance Nutrition
Personal Trainer Overview
Christian mixes traditional tried and true training techniques with new age functional training for best results. He creates everyone's routines from scratch and customizes them to ensure their results according to their goals. Check out Christian's private personal training studio MaxFit Studio at www.MaxFitStudioCR.com or www.facebook.com/MaxFitStudioCR
Training Philosophy
My Philosophy on health and fitness is that we cannot afford to be without it. If we don't take care of our bodies, it will not matter what job we have, our partner, our kids or what kind of house we live in. Your body is your most valuable asset! But that doesn't mean that working out needs to be boring!
Education
In addition to attending a University and for Exercise Science and Certifications, Christian has learned the most through hands on experience through many years of personal training.
Bio
Christian was born and raised in the beautiful state of Colorado. He grew up constantly hiking, biking and exploring the great outdoors. Once he entered high school, hiking and being adventurous were just not enough as he started weight training and sprinting for his high school track team. It was during this experience that he realized that he had a thirst of knowledge for true fitness. With the support of his wife, Kathryn, he realized his dream of opening his very own training studio. Christian holds multiple certifications ranging from personal training to sports nutrition. He arms himself with as much knowledge as he can on how to help others achieve results and reach their full potential. With all the information floating around from the internet and fitness magazines, not to mention different supplements that fill entire shelves in stores, the right choices to become healthy can be overwhelming. He strives to help educate others in the true happiness that health and fitness can offer. With his training you will also gain self confidence, mental clarity and solidify healthy habits. Christian practices what he preaches, so you know it works! ​Contact Christian today to set up your free fitness consultation and complimentary first workout!