THE PERSONAL TRAINER CONNECTION!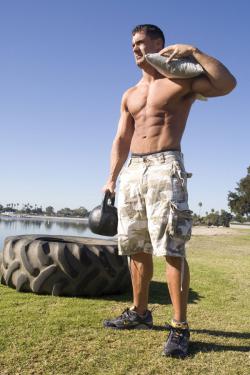 San Diego Personal Training
Chris Keith -
(619)869-1205
San Diego, California 92110
Trains both men and women.
contact trainer
Specialties
Strength Building
Weight Loss
Rehabilitation
Yoga
Aerobics
Body Sculpting
Functional Training
Training Locations
home
work
gym
studio
outdoor
Certifications
and Credentials Voted BEST Personal Trainer by San Diego Magazine Voted BEST Personal Trainer by Ranch & Coast Magazine Voted BEST Personal Trainer by 944 Magazine Voted BEST Personal Trainer by San Diego Uptown News Voted BEST Personal Trainer by The GLT News Weekly National Academy of Sports Medicine Certified Personal Trainer USAW Olympic Weightlifting Coaching Certification with Bob Takano Olympic Weightlifting Certification with Mike Burgener Vanquish Athletics Olympic Weightlifting Certification with Henry Justin Rojas 2009
2010
2011 San Diego Triple Crown Finisher Aerobics and Fitness Association of America Advanced Weight Training Specialist Westside Barbell Powerlifting Course 2004
2013 Kelly Starrett's Mobility Workshop APEX Fitness Group Certified Nutritionist and Aerobics Instructor USA Track and Field – Member USA Triathlon – Member National Strength and Conditioning Association – Member Several media appearances with NBC
ABC
CBS
and KUSI Contributing Editor for JustLuxe.com Fitness Columnist for The Rage Magazine Contributor for Max Muscle Sports & Fitness Magazine
Personal Trainer Overview
Chris Keith is the most effective and inspiring trainer in San Diego. He was voted best personal trainer in San Diego by 944 and San Diego Magazine. His functional/athletic style fitness training programs are very intense and progressed differently for all fitness levels. Chris trains people at all levels of fitness with incredible intensity for amazing results. I know a San Diego BOOT CAMP can sound intimidating for some, but anyone who has the desire to make a positive change in their health, Regardless of your age or fitness level, whether you are a beginner or an advanced athlete our exercise and nutrition programs will motivate and inspire you to get in better shape than you have ever been and you will have the time of your life doing it.
Training Philosophy
We all know there are things we need to take care of in our lives, and somehow in the shuffle of it all, we forget to make the time to take care of ourselves. We can make time for health and fitness. The truth is, if we don't make time now, we may find ourselves suffering from a health concern, not having much time for anything and wishing we would have spent the few hours a week in the gym. Our ability to contribute and perform in our lives and realize our dreams is directly affected by our fitness level and our willingness to take action. Be a doer. If you are ready to make a change, and want to do it in the most effective way possible, and desire lasting results, consult with an experienced Certified Personal Trainer. You will gain more time than you spend.
Education
National Academy of Sports Medicine IDEA Health and Fitness Association - Member National Strength and Conditioning Association - Member
Bio
Chris Keith is a San Diego personal trainer and fitness expert with over 20 years experience in redefining physiques and enhancing the health of his clients. Chris has worked with individuals at all fitness levels and has dedicated his life to improving the lives of others by providing a practical and effective no-nonsense approach to health and fitness. If you want to improve your quality of life and results are what you are looking for, Chris is the San Diego personal trainer to contact.