THE PERSONAL TRAINER CONNECTION!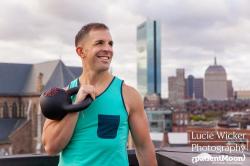 Specialties
Strength Building
Weight Loss
Body Sculpting
Certifications
Certified Personal Trainer by National Academy of Sports Medicine (NASM) Certified Strength and Conditioning Specialist by the NSCA
Personal Trainer Overview
Experience Boston's Most Unique Body Transformation Center Imagine having a caring, expert team around you including an integrative medical doctor, personal trainer, life coach, and nutrition specialist, all in one place, guiding you toward reaching your health and fitness goals. That's what we've created at Aum Training Center by partnering with functional medicine doctor Sarika Arora, MD at Aum Healing Center! We saw a need to bring together the science of functional medicine with the art of movement & strength training in order to fully address and transform the inner and outer you. Our members radically improve the way they look and feel. Our Approach Assess the Whole Person We believe that the time has arrived for a change in fitness! Instead of fads, diets, and the quick-fix of the day, our members receive proven, clinically-designed strategies that get real, lasting results! This begins by listening to your story and really getting to know you through a world-class personalized assessment, which includes: a movement screen, postural assessment, cell health analysis & body composition evaluation, nutrition review, and more. Uncover the Root Cause(s) weight-loss-personal-trainer-nutrition-detox-functional-medicine-nutrition The unique lab tests we offer uncover all the underlying things holding you back from feeling and looking your best. You'll discover: -which foods inflame you -how to balance your hormones naturally -the specific nutrients you're deficient in that are impacting your energy and slowing down your progress -strategies for spending less time in the gym and still getting better results You'll learn all this and more as you gain access to the most comprehensive health assessment of its kind, which includes: state of the art body composition and cell health analysis (BIA) food sensitivity and allergy testing in-depth nutrient panel personalized hormone profile Map A Personalized Plan Because we're armed with this important information about your health, we're able to take the guesswork out of your efforts and build a plan based upon your unique biochemistry.
Training Philosophy
Education/Entertainment/Empowerment I believe in educating my clients; I believe in having a ton of fun as we work toward our goals; and I believe in seeing the best in the people I work with and empowering them to make decisions that lead to happy, healthy lives.
Education
Bachelor of Arts in Psychology-Stonehill College Master of Arts in Transpersonal Psychology-Sofia University Master's Certificate in Transformational Life Coaching-Sofia University
Bio
Chris has served as a trusted coach to some of Boston's top business leaders. Best known for producing remarkable before & after transformational weight loss results, he has had tremendous success in guiding his clients to double-digit weight loss, with some individuals losing nearly 100 pounds in less than one year. Combining a mix of exercise science, functional medicine nutrition, and performance psychology, Chris is an educator first and foremost, and he will provide you with proven tools and strategies for shattering your mental and physical barriers. Chris' journey into health and fitness largely stemmed from both personal and family health issues, including losing his Uncle Joe to diabetes. Over the past decade, he has been on a quest to learn the very best strategies in fitness, nutrition, and psychology for guiding people toward strengthening their body and enhancing the quality of their health. His unique background includes a Master's degree in Psychology with a specialization in transformational coaching along with numerous personal training certifications including the accreditation Certified Strength and Conditioning Specialist (CSCS). Chris lives in the South End of Boston with his wife, functional medicine doctor Sarika Arora, M.D. They are proud owners of Aum Healing Center LLC, Boston's top functional medicine center. When Chris is not coaching or training, you'll likely find him reading a book in the Public Garden or playing Frisbee in the Common.